Cub Scout Leader wins Local Hero Award
26 July 2022 3:00 PM
Talk to anyone at the 1st Walliston Scout Group and they will tell you that Maria Kelly is a dedicated role model for young people, deserving of recognition. Maria received that recognition last week as she was awarded a City of Kalamunda Local Heroes award for her outstanding contribution as a Cub Leader.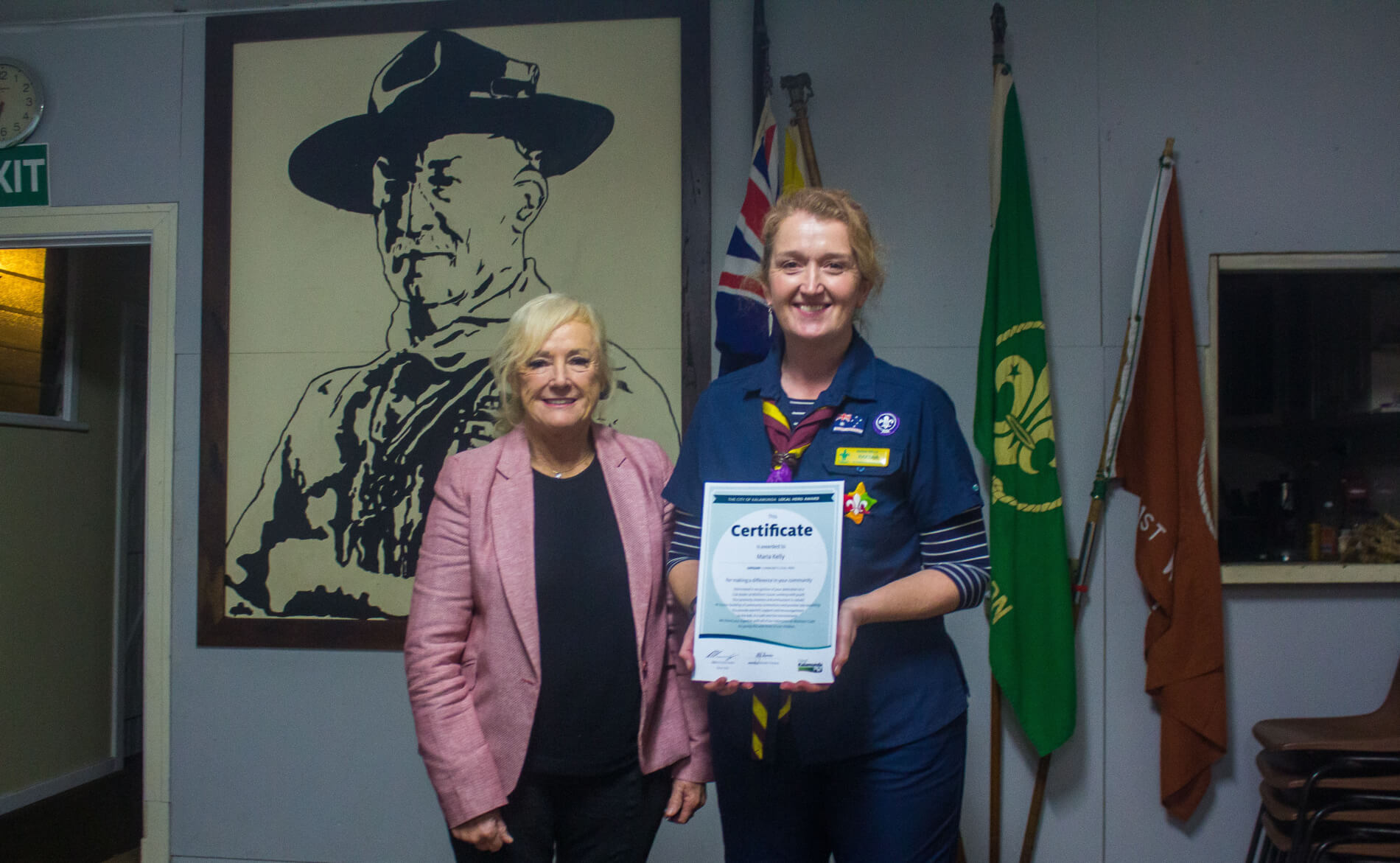 Local Hero Award winner Maria Kelly (right) with Mayor Margaret Thomas (left)

Mayor Margaret Thomas said that Maria, along with all the volunteers at the 1st Walliston Scout Group, was an ideal candidate for a Local Heroes Award, and deserving of the accolade.
"People like Maria, who nurture our young people, help them develop important skills, and shape them to become future leaders, are the backbone of our connected community.", she said.
"It was a pleasure for me to visit the 1st Walliston Scout Group to present Maria this award. To see her in action encouraging these children to be the best they can be was just lovely.", she said.
Maria was nominated by parent Gemma Haynes. In her nomination, Gemma said: "She is a positive, kind and enthusiastic role model to our children. I strongly believe that it is important for children to have community connections and positive role models outside of their family, and Maria gives warmth, support and encouragement to our kids, in a safe and fun environment."
The City's Local Hero Awards are a celebration of the people within our neighborhoods who are passionate about making a difference, freely volunteering to give back to the community. Award winners receive a $50 KalaCash gift card. The monthly Awards are proudly presented by the City of Kalamunda and supported by Echo News.

Community members that make an exceptional contribution to our neighborhood can also be nominated for Australian Honours and Awards hosted by the Office of the Official Secretary to the Governor-General.
If you know a local hero, nominate them today at engage.kalamunda.wa.gov.au/local-heroes
For more information on the Local Heroes Awards or Friends Groups Programs please contact the City of Kalamunda on 9257 9999, email enquiries@kalamunda.wa.gov.au.
Photo: 📷 by City of Kalamunda