Local Hero Bruce Glover: Innovator, Educator and Conservation Volunteer
10 June 2022 7:00 AM
Bruce Glover, an active volunteer member of the Hugh Sanderson Reserve and Ray Owen Reserve Friends Groups for over 20 years was awarded one of the City of Kalamunda's Senior Local Community Hero Awards at their recent National Volunteer Week Cultural Burning event.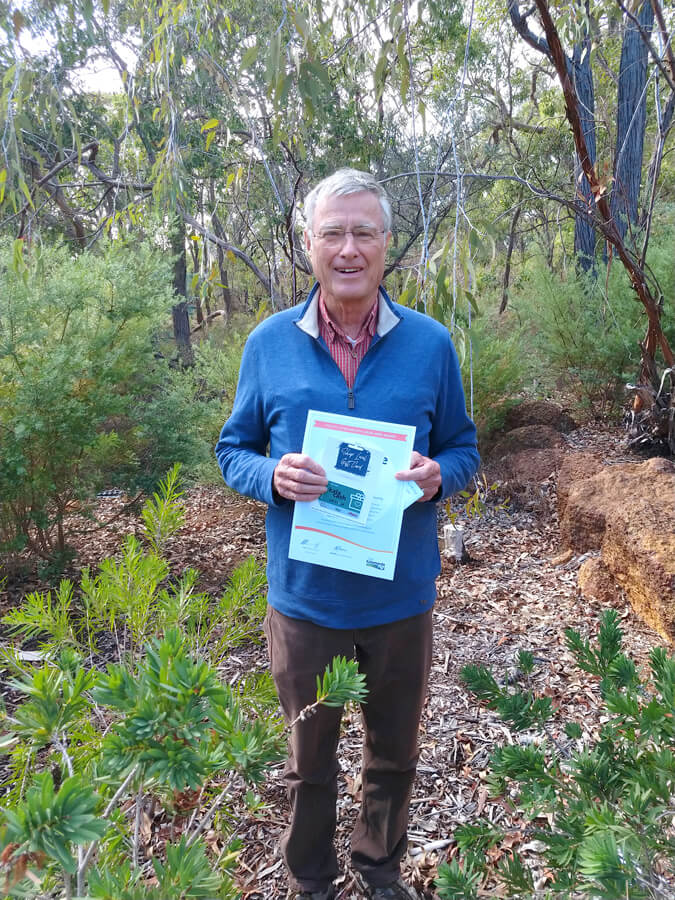 Image: Bruce Glover
Nominated for looking out for the best interests of the reserves, Mr Glover developed a watering technique to ensure the survival of newly planted native vegetation in the drier months. As Coordinator of the two Friends Groups, he shares his design and knowledge with other volunteers, school and community groups, encouraging everyone to be actively involved in caring for their local native spaces.
Mayor Margaret Thomas JP commented, "We highly value Local Heroes, such as Mr Glover, who freely give their time and inventiveness to help our community thrive. Our Friends Groups work in partnership with the City to manage local bushland reserves. As this Year's theme acknowledges, we are 'Better Together'."
"You don't need any special skills to become involved, just a passion to make a difference".
"The City hosts over 47 individual Friends Groups where community members can work and learn alongside local conservation experts, such as Mr Glover."
"Regular, active volunteering is the best way to make a sustainable transformation to your local community, with the added bonus of providing a sense of belonging and connection; and improving health and wellbeing for yourself - and for our flora and fauna".
"I encourage everyone to join a local Friends Group this winter – the Noongar seasons of Makuru and Djilba – as many helping hands are valuable in preparing for and cleaning up after storms, and it can be a good time to give native seedlings a head-start before the hotter months."
The City's Local Hero Awards are a celebration of the people within our neighborhoods who are passionate about making a difference, freely volunteering to give back to the community. Award winners receive a $50 KalaCash gift card. The monthly Awards are proudly presented by the City of Kalamunda and supported by Echo News.
If you know a local hero, nominate them today at engage.kalamunda.wa.gov.au/local-heroes
For more information on the Local Heroes Awards or Friends Groups Programs please contact the City of Kalamunda on 9257 9999, email
enquiries@kalamunda.wa.gov.au
.