Recycling Hub Partnership with Lesmurdie Library and Lesmurdie Senior High School – July 2023
20 July 2023 3:27 PM
The City of Kalamunda has recently placed a recycling hub at the Lesmurdie Library for the community to take their batteries, printer cartridges, mobile phones and light globes to. The 'Green Team' students at Lesmurdie Library will also actively take such items from the school to the hub in the library.
Donna Gardiner, Deputy Principal at Lesmurdie Senior High School, has said that the school is "very proud to partner with the City of Kalamunda and our community library to promote a collection site for recyclables in this locality." She explained that their school values, of CARES privileges the Environment as we promote to all our students to "explore issues, engage in problem solving, and take action to improve our personal and physical environment." To support this Lesmurdie Senior High School provides students with practiced skills of reducing their ecological footprint on society. We are very proud that our student's volunteer their time for this important initiative.
Donna explains that through student voice, our goals at Lesmurdie Senior High School are to teach students skills on how to reduce, reuse and recycle at school, home and within the wider community; encourage a whole community participation in waste wise practices; minimise the amount of waste going to landfill; conduct yearly waste audits; encourage environmentally friendly choices to be made with school products; increase the amount of products that we recycle or reuse; and reduce the carbon footprint of the school.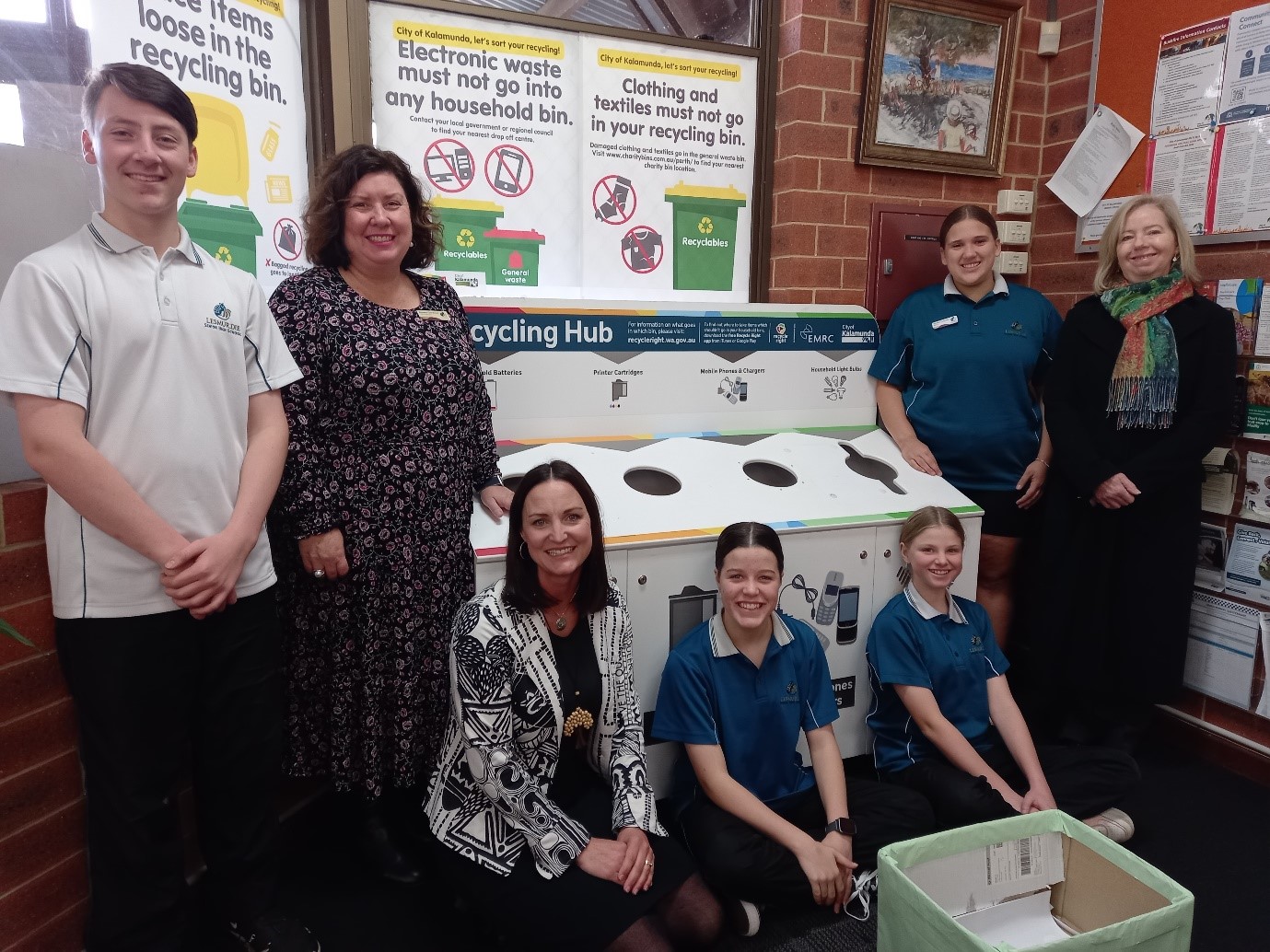 Students in photo - Michael Webber, Charlotte Bradtke, Nelia Williams, Ashley weeks. LSHS Staff - Donna Gardiner (Deputy Principal) and Lisa Spry (Youth Worker & Education Assistant). Librarian staff - Dawn Gullone

For more information on the locations of recycling hubs throughout the City of Kalamunda, contact the Waste Services Team on 9257 9999.
-END-