Stirk Park upgrade gets underway
01 February 2023 5:00 PM
The City of Kalamunda marked the commencement of the highly anticipated Stirk Park upgrade with a turning of the sod ceremony in the park on 1 February 2023.
In attendance were City of Kalamunda Mayor Margaret Thomas, Member for Kalamunda Matthew Hughes MLA, Federal member for Hasluck Tania Lawrence MP, together with representatives from Lotterywest and Rotary Club Kalamunda.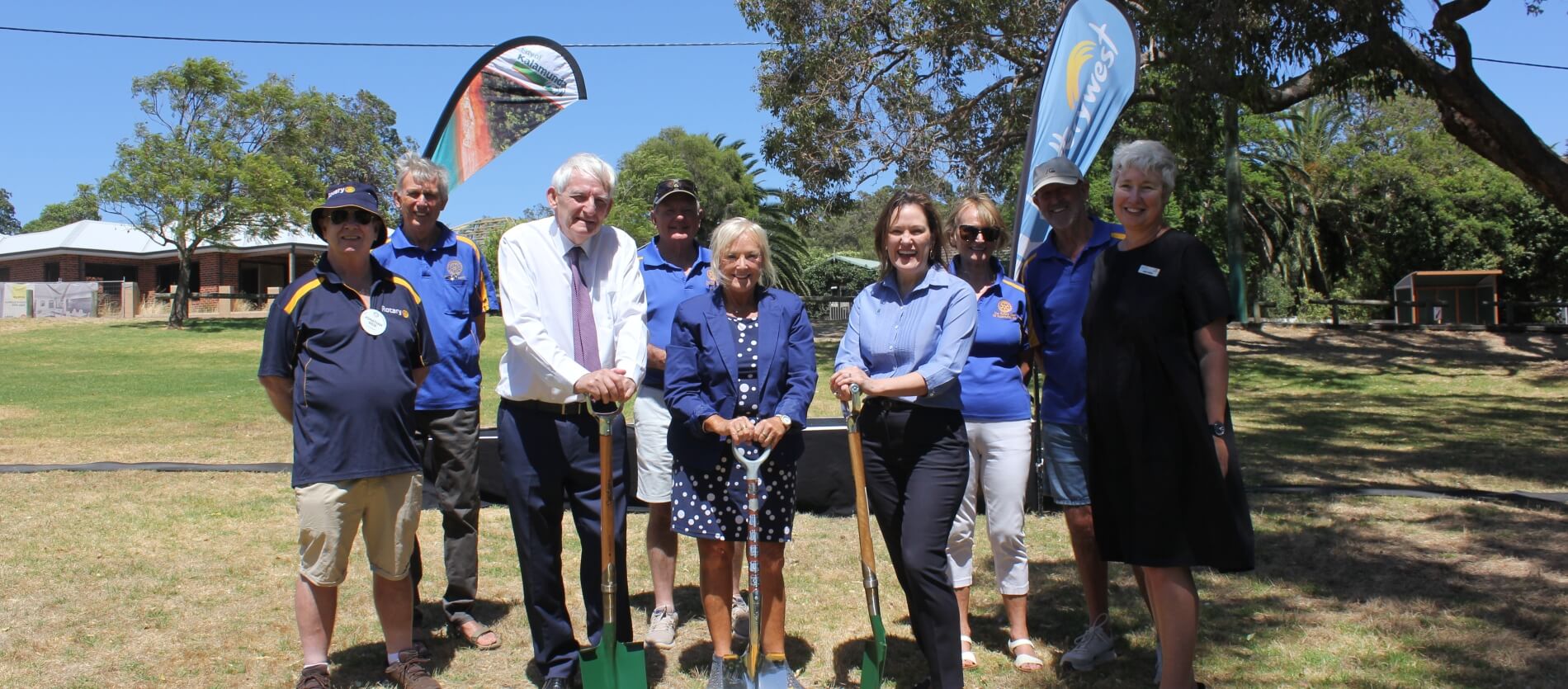 City of Kalamunda Mayor Margaret Thomas said this transformation will have a huge impact on the City, both for residents and visitors.
"The new park designs were created in collaboration with our community, with many people having had input into how best to utilise the space," she said.
"As a result, Stirk Park will have something for everyone; young children, teenagers, families and the older members of our community."
"It will create a more usable, dynamic area for locals and visitors and contribute to the vibrancy of our City."
The upgraded park will feature a half-sized basketball court, exercise and play equipment, BBQs, bench seating and shade shelters, a new toilet block, viewing platform and a heritage bridge.
For the young ones, the new play area will include a zig zag boardwalk, triple swing, thread chimes, talking tube, community pathway, and all abilities double flying fox. There will also be sand play zones, a timber arbour meeting place, rope walk, play shop front, zig zag climber and animal and human track features telling a Dreamtime Story.
After consultation with young people in the city, the skate park will contain Junior and Intermediate 'Street Plaza' and Flow Bowl skate zones.
The tender for the construction of the Stirk Park Playground and Skate Park project was awarded to Advanteering Civil Engineering in late 2022. Construction will now begin.
The $3.8M project will be funded from a combination of sources including funding from the Federal Government's Local Roads and Community Infrastructure Program, Lotterywest, the City of Kalamunda and the Rotary Club of Kalamunda.

For more information about this project here
Alternatively, please contact the City of Kalamunda on 9257 9999 or via email enquiries@kalamunda.wa.gov.au