Local Heroes Awarded for 2022
23 December 2022 10:33 AM
The City of Kalamunda has announced the Local Hero of the Year Award Winners for 2022.
The City of Kalamunda has announced the Local Hero of the Year Award Winners for 2022. A Local Hero could be someone who looks after a Reserve in your area, a champion and advocate for the environment, a volunteer with the local fire or emergency services, or those who give so much of their time looking after members in their community.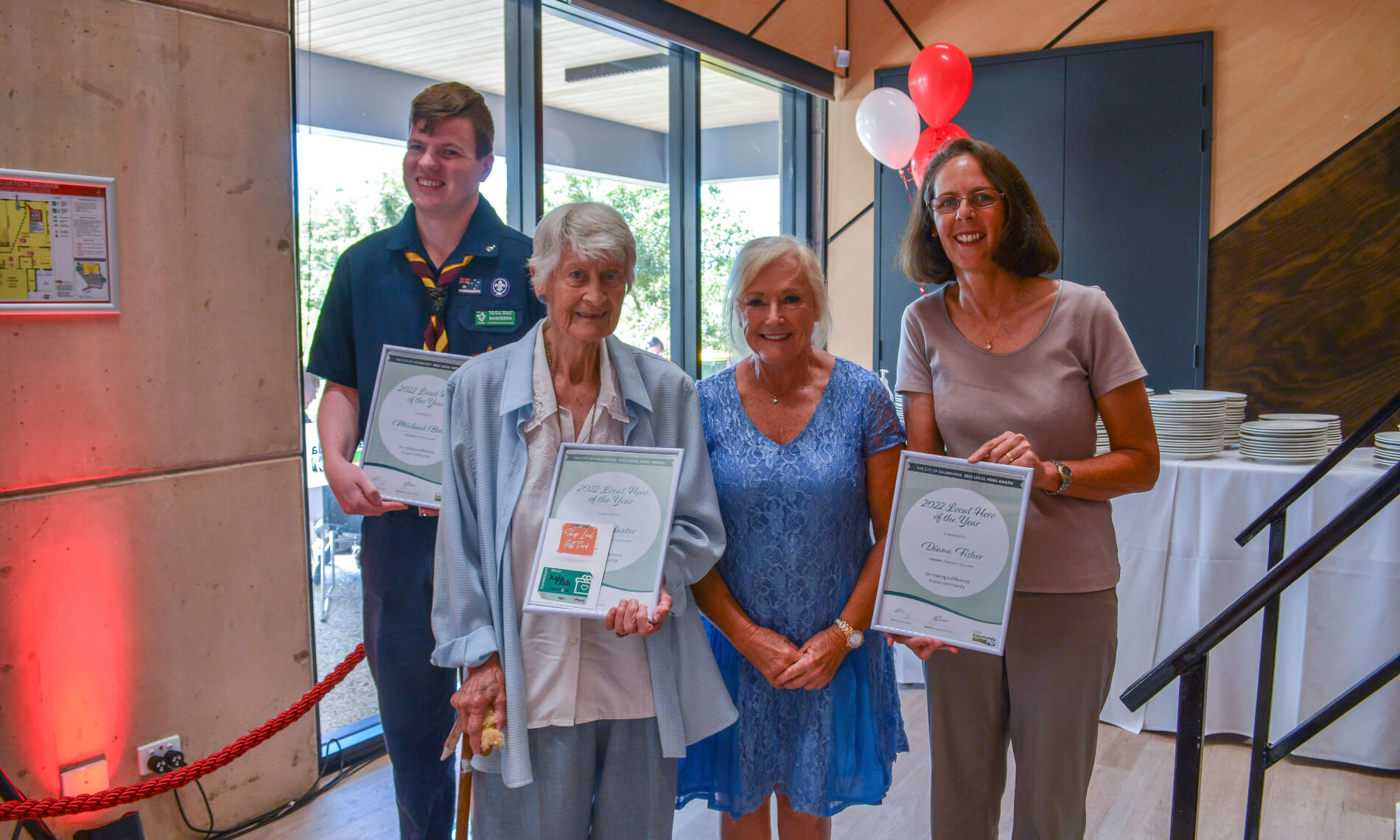 📷 From left - Michael Breen, Hazel Baxter, Mayor Margaret Thomas and Diana Fisher
Mayor Margaret Thomas said, "Our volunteers throughout the district are amazing. And the Local Hero program, along with special events such as Thank a Volunteer, are just some of the small ways the City looks to acknowledge this amazing work. Our volunteers bring so much to the community through their work in organisations, clubs, groups, committees and charities. They share knowledge and expertise, effort, advice, experience, friendship, vision and leadership. Most importantly they give their time freely."
"Much of what we see when we look around the City of Kalamunda would not be possible without our community spirit, our sense of volunteering and our collective contributions."
"Over decades volunteers have built community spaces, cared for one another and collaborated to achieve what was important to them and their community. I thank them on behalf of the Council for their kindness, compassion, and caring."
The City of Kalamunda local hero nominees from throughout 2022 are people are nominated by the peers recognising significant service to the community.
The Young Local Hero of the Year was awarded to Michael Breen. Michael has overcome many personal challenges show leadership and community spirit through his involvement with the Walliston Scout Group (Kalamunda Rover Crew and Walliston Cub Pack), volunteering at the Darling Range Wildlife Shelter and sharing his passion for protecting the local flora and fauna.
The Community Local Hero of the Year was Mrs Diana Fisher. Diana has been leading the Kalamunda Heart Foundation Walking Group weekly for over 10 years and the group has gone from strength to strength and has now grown to over 50 members. She encouraged and developed new walk leaders with the group's growth and they now have a strong leadership base of 4. This amazing lady has a passion to encourage walkers to keep moving and improve their health and wellbeing and has been a strong motivator in the group and is known for her inclusiveness, efficiency and professionalism and is respected within the Kalamunda Walking Group, City of Kalamunda and The National Heart Foundation of Australia.
The Senior Local Hero of the Year is a hotly contended category – with so many members of the community actively volunteering. The Winner for 2022 is Mrs Hazel Baxter. Since 1974 the City of Kalamunda Libraries have offered a free Books on Wheels service, delivering books and other items to customers who are physically unable to visit one of our library branches. The fortnightly deliveries cover all areas of the City of Kalamunda, and many customers say that receiving their books is often the highlight of their fortnight. Mrs Baxter as helped with the Books on Wheels service with her husband John in 1996, and she has not stopped volunteering with the service since!
Reflecting on her time as a volunteer, she noted that it isn't just about the books – it's about the human contact. For many customers, the library volunteers may be the only people they see all week, and so taking the time to chat, taking an interest and making a genuine connection with people is very important to her. She always asks if her customer is okay and if there is anything that they need, and over the years this has led to helping customers with much more than just their reading material – trips to the shops to buy cigarettes, helping with urgent cleaning and gardening before a home open, and even helping to save a family of lost ducklings have all been part of a day's work for her, and the customers she visits are truly grateful for her generous nature.
To nominate a local hero go to: Local Heroes & Volunteers | Engage Kalamunda