Fran West: Village Champion and Local Hero
25 October 2022 5:00 PM
Tireless. Giving. Dedicated. Donovan Village President Fran West is the latest winner of a City of Kalamunda Local Hero Award. As president of the village, Fran dedicates much of her time to her fellow residents, supporting a whole host of events at the village and hostel, offering a helping hand to anyone who needs it, and improving the lives of those around her.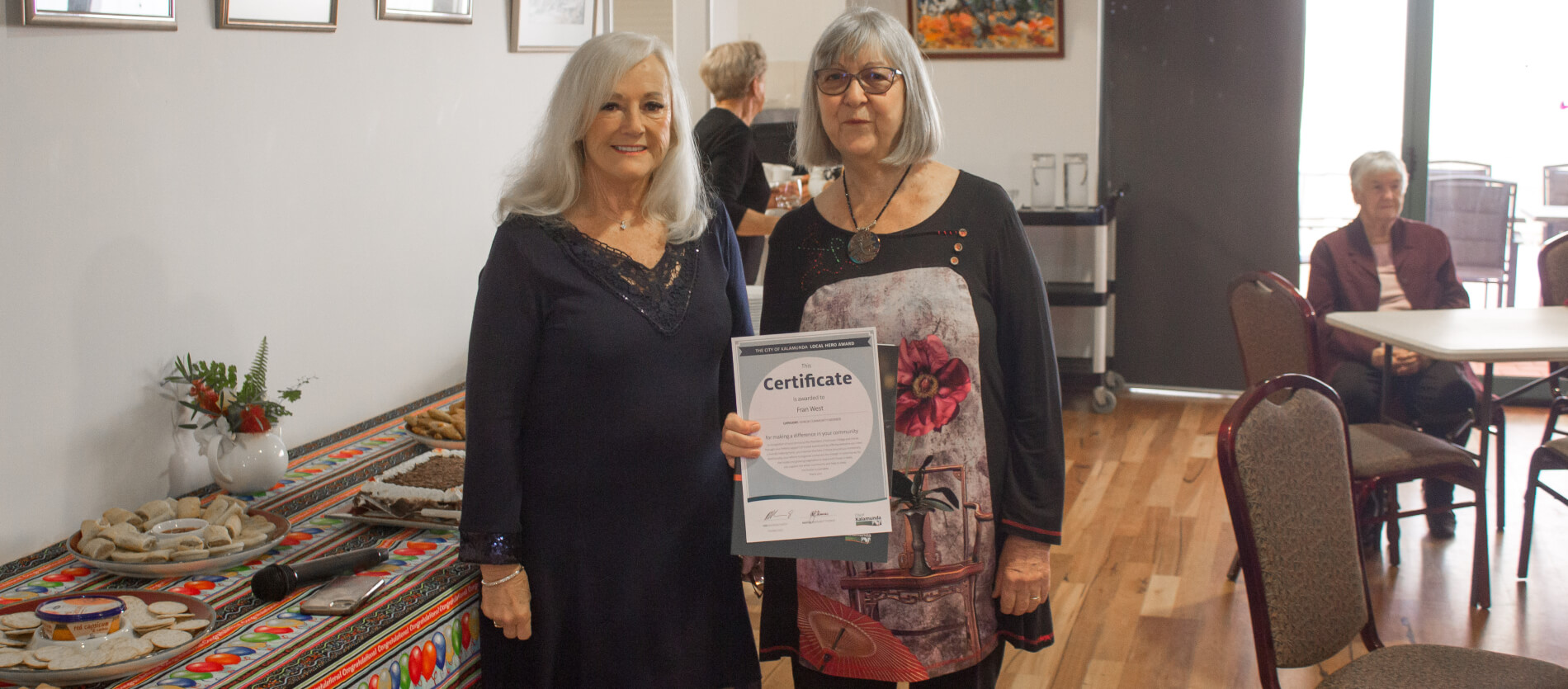 Image: Mayor Margaret Thomas (left) with Donovan Village President Fran West (right)

Nominator and fellow resident, Coral Culling gave a long list of reasons that Fran deserved recognition, including raising money through the Containers For Change program to help keep activities in the village sustainable.
Mayor Margaret Thomas said the community was richer thanks to people like Fran.
"We need giving, thoughtful people in our community at every stage of life, and Fran is the perfect candidate for a Senior Community Member Local Hero Award", she said.
"The City supports the active participation of local communities through the Local Hero Awards, and Fran is one of those gems in our community who is always willing to give her time and efforts to improve the lives of those around her. We thank Fran for her dedication to her community."
"I'd like to also thank Coral for nominating Fran. It's only with your nominations coming in from the community that we can find out about all the wonderful people that contribute to our City. I encourage everyone to nominate their local hero for an award!"
Donovan Village Manager, Ian Brockett said "At Southern Cross Care, we are driven to make a difference to people's lives – and Fran is a wonderful example of that ethos. Through her role as Chair of the Donovan Village Residents Committee, she helps to bring our community together and enriches the lives of our residents through organising many social functions. Fran is also very active as a volunteer to the residents of our Residential Care Home at Jeremiah Donovan House. This award is so deserved and we thank the City of Kalamunda for the recognition."
The City's Local Hero Awards are a celebration of the people within our neighborhoods who are passionate about making a difference, freely volunteering to give back to the community. Award winners receive a $50 KalaCash gift card. The monthly Awards are proudly presented by the City of Kalamunda and supported by Echo News.

Community members that make an exceptional contribution to our neighborhood can also be nominated for Australian Honours and Awards hosted by the Office of the Official Secretary to the Governor-General.
If you know a local hero, nominate them today at engage.kalamunda.wa.gov.au/local-heroes
For more information on the Local Heroes Awards or Friends Groups Programs please contact the City of Kalamunda on (08) 9257 9999, email enquiries@kalamunda.wa.gov.au.
Photo: 📷 by City of Kalamunda