Local Hero Diana Fisher: On the trail for healthy hearts
28 June 2022 5:00 PM
Lub-dub. Lub-dub. Crunch. Crunch. The rhythmic beating of hearts and crunching of leaves – these are the sounds of over 30 members of the Kalamunda Heart Foundation's Walking Group setting off for their morning hike along the Railway Heritage Trail, Kalamunda.
This week's walk followed a City of Kalamunda Local Hero Award presentation by Mayor Margaret Thomas JP to one of the volunteer walk-leaders, Diana Fisher.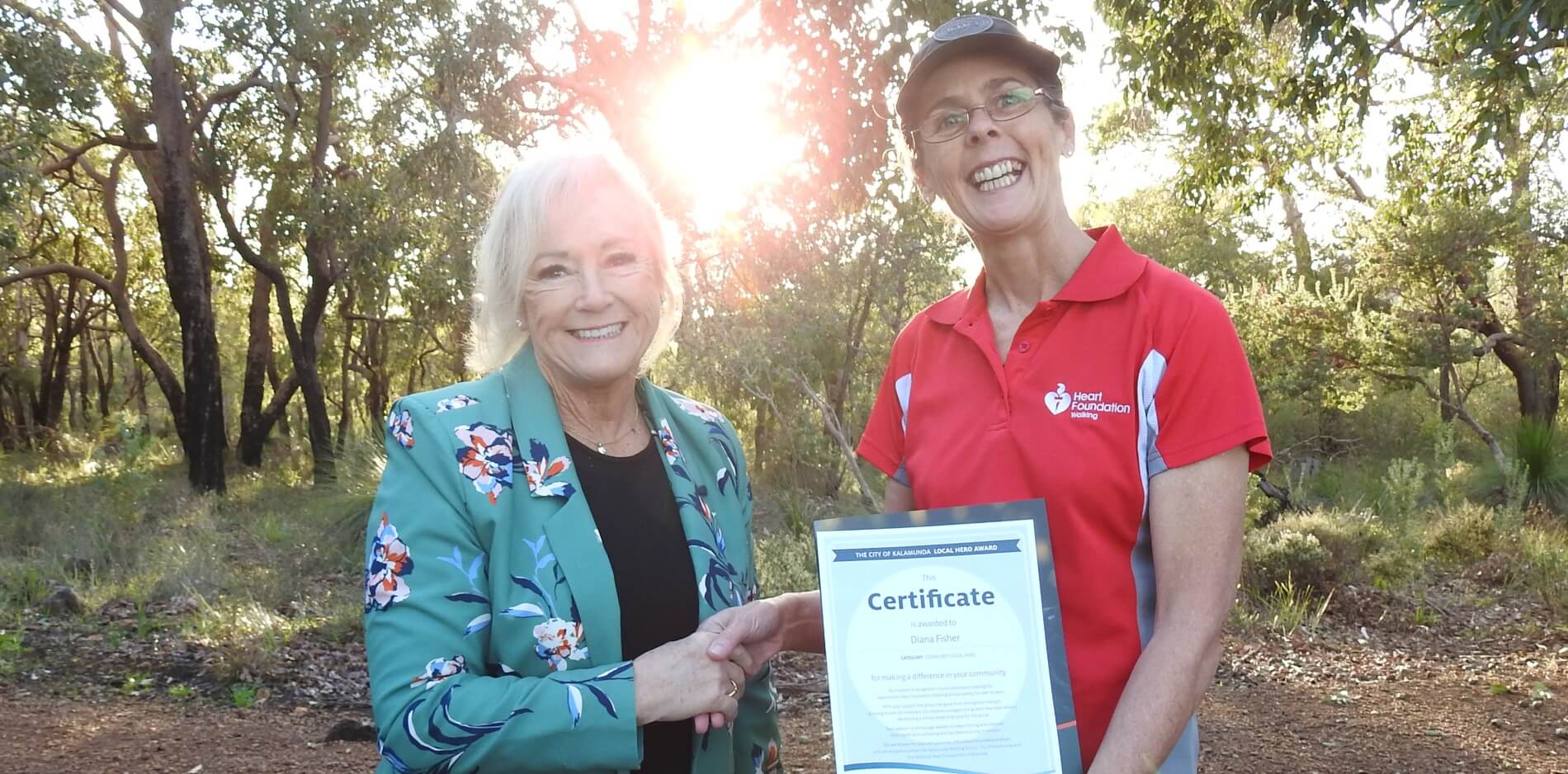 Diana has been leading the Kalamunda Heart Foundation Walking Group weekly for over 10 years with the group going from strength to strength and building to over 50 members. Along with co-leaders Margaret Watson, John Sharp and Derek Bracken, Diana motivates community members to keep moving and improve their health and wellbeing. Diana is known for her inclusiveness, efficiency, professionalism, and being a strong motivator. She is respected within the Kalamunda Walking Group, the National Heart Foundation of Australia, and City of Kalamunda.
The Heart Foundation's Walking program is Australia's largest free walking network, catering for walkers of different ages, abilities, and endurance levels. The weekly walks conclude with a social chat and coffee at one of the local cafes.
Mayor Margaret Thomas JP commented, "Being active and involved is one of the best things we can do to keep our mind and bodies healthy."
"We are fortunate to have so many quality walking and cycling trails here in the City of Kalamunda - from Grade1, flat, easy-walk trails for people with no hiking experience, to Grade 5 for experienced self-reliant hikers".
The City's Local Hero Awards are a celebration of the people within our neighborhoods who are passionate about making a difference, freely volunteering to give back to the community. Award winners receive a $50 KalaCash gift card. The monthly Awards are proudly presented by the City of Kalamunda and supported by Echo News.
If you know a local hero, nominate them today at engage.kalamunda.wa.gov.au/local-heroes
For more information on the Local Heroes Awards or Friends Groups Programs please contact the City of Kalamunda on 9257 9999, email enquiries@kalamunda.wa.gov.au.
Photos: Top - Walking Group at Kalamunda Railway Heritage Trail (near Kalamunda Tennis Club) 📷 Mark Fisher| Middle - Walking Group being led by Diana Fisher along Trail | Bottom - Diana Fisher being presented with Local Hero certificate by Mayor Margaret Thomas JP (left) 📷 Mark Fisher