Cooper Rullo standing out as the modern-day hero
10 June 2022 9:00 AM
Inclusive. Positive. Genuine. Nominated for aiming to be the best he can be and having a never give up attitude. These were the words used to describe Mazenod College student, Cooper Rullo who was awarded a City of Kalamunda Young Local Hero at his recent school assembly.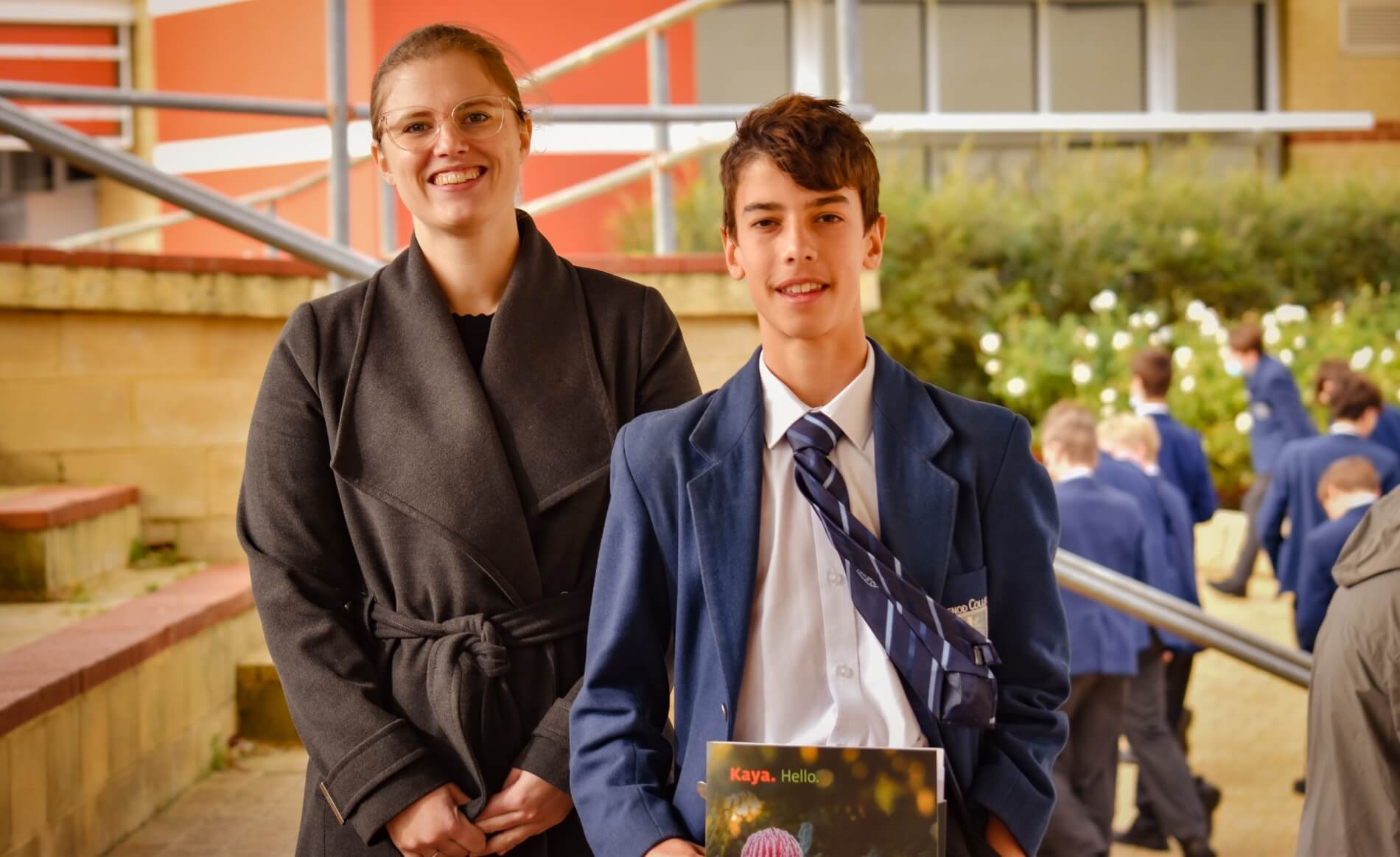 Mazenod College Year 9 classroom teacher, Ms Jessica Hewett with Cooper Rullo, Local Hero Aware winner
Photo supplied by Mazenod College
Classroom teacher, Ms Jessica Hewett asked her Year 9 English Extension class to explore what it means to be heroic in contemporary Australia and suggested they submit their responses to the City's Local Hero Award website.

"Part of this unit involves selecting someone in their own world that reflect values of equality, perseverance, integrity and community-service, and creating a persuasive presentation to celebrate that person," said Ms Hewett.

"This year, I thought it would be fantastic to have students take their classroom learning and put it into practice in a 'real-world' situation. Not only could they engage with their learning in a meaningful way, they were also able to properly recognise the positivity that others bring to our region."

Nominated for staying positive even when times were challenging, Cooper is recognized for supporting his peers, lending a helping hand, and ensuring everyone is included and has a fair go. In his local neighbourhood he looks out for his neighbours assisting them with their gardening and mowing and taking the time to chat with them, showing his genuine nature and approachability.
Cooper was actually quite shocked but chuffed when he received his Local Hero Award, saying, "I can't believe I actually won. I don't feel like I'm a hero or anything like that".
"Nate [who nominated Cooper] and I are going to split the award. He's my hero too".
Mayor Margaret Thomas JP disclosed, "Reading all the student responses was an absolute joy. It is refreshing to see that our youth recognises that their Local Heroes are the everyday people in their local communities".
"It just goes to show your modern-day hero is likely standing right next to you. I would encourage others to do the same and look at the people that enrich their lives as they live, work and play. In addition to thanking them face-to-face, they are also encouraged to nominate them for a City of Kalamunda Local Hero Award available each month, in one of four categories."
The City's Local Hero Awards are a celebration of the people within our neighbourhoods who are passionate about making a difference, freely volunteering to give back to the community. Award winners receive a $50 KalaCash gift card. The monthly Awards are proudly presented by the City of Kalamunda and supported by Echo News.
Community members that make an exceptional contribution to our neighbourhood can also be nominated for Australian Honours and Awards hosted by the Office of the Official Secretary to the Governor-General.
If you know a local hero, nominate them today at engage.kalamunda.wa.gov.au/local-heroes
For more information please contact the City of Kalamunda on 9257 9999, email
enquiries@kalamunda.wa.gov.au