Connecting Community Award Winner
08 November 2021 1:00 PM
The City of Kalamunda was honoured to be awarded a Local Government Professionals Connecting Community Award for community engagement at the Annual State Conference Awards.
The High Wycombe Shared Paths – 'Painting our Streets Alive' project was recognised for its innovative approach designed to increase community vibrancy and its links to the City's Strategic Community Plan.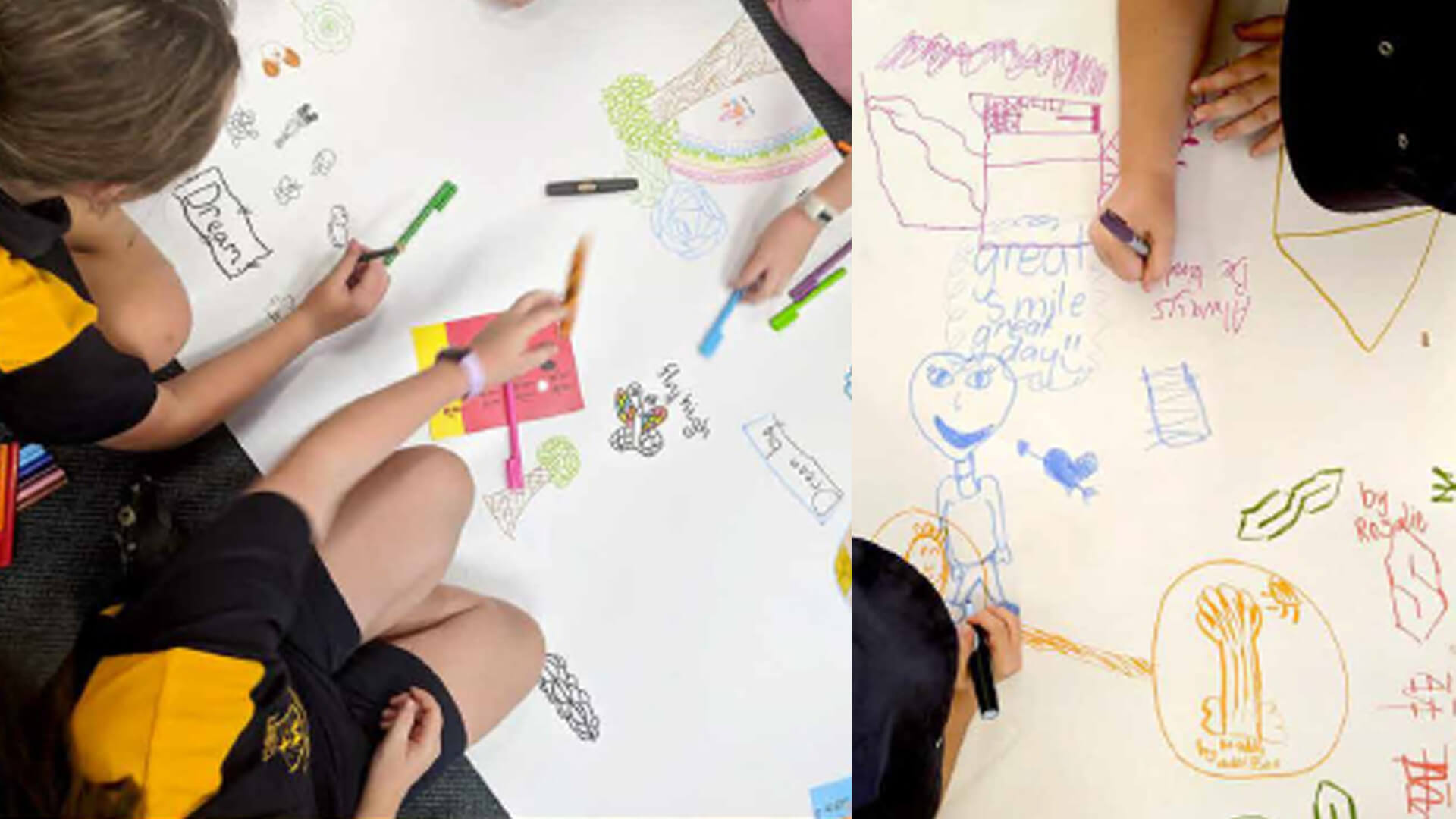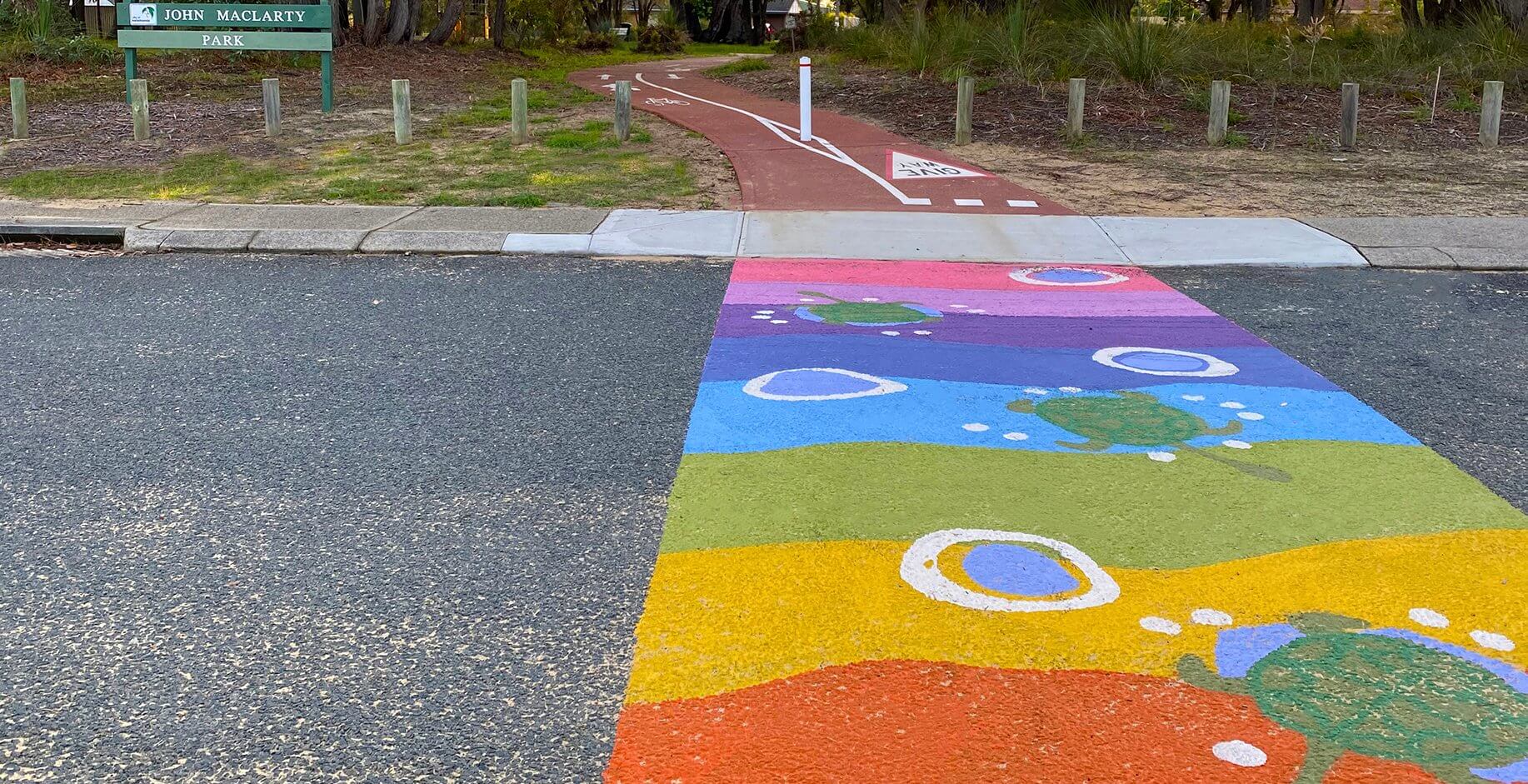 Images: (Left) WABN Design / Ideas Workshop with the local Primary Schools| (Right) The completed Maclarty Way Turtle Path road crossing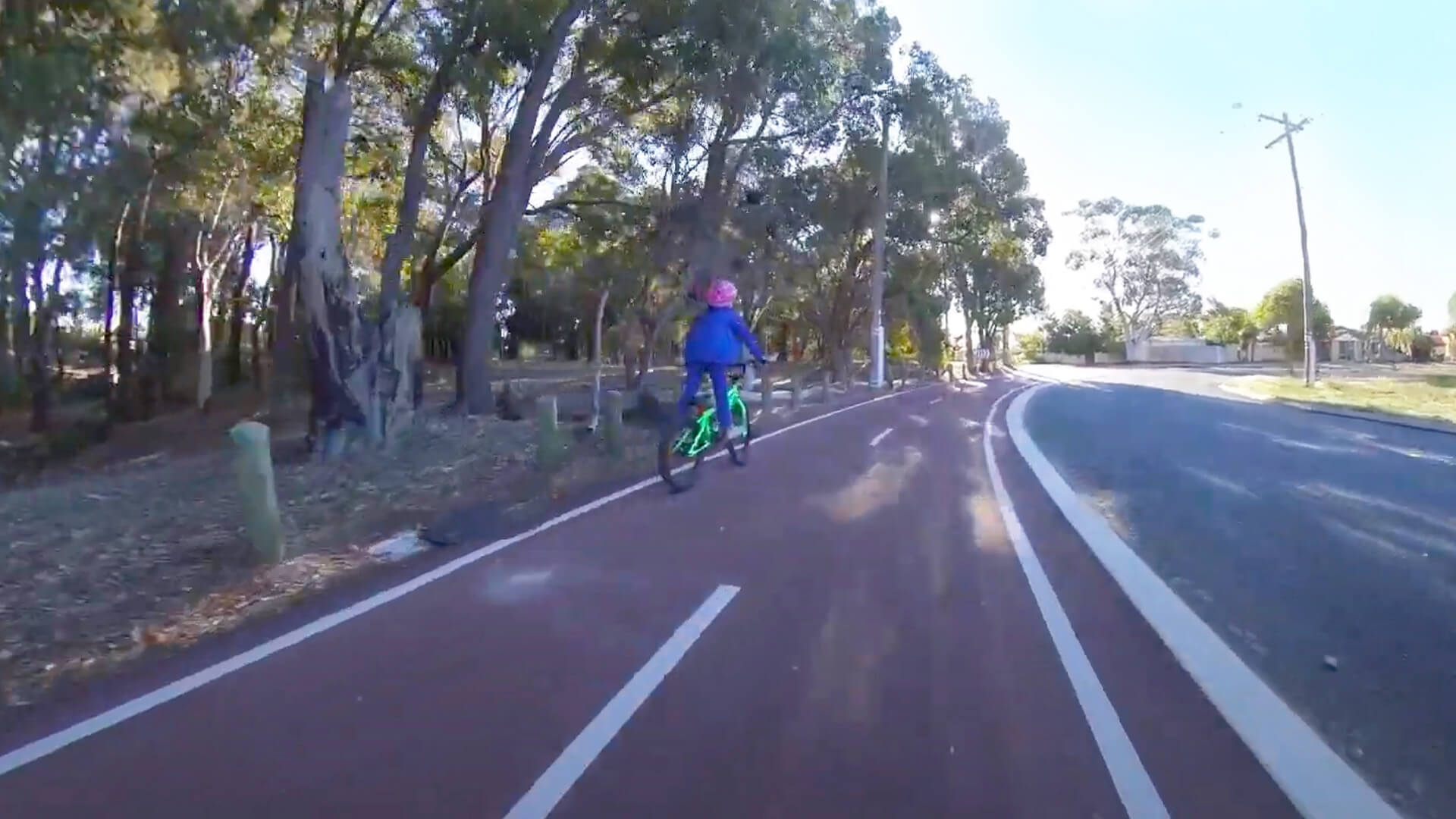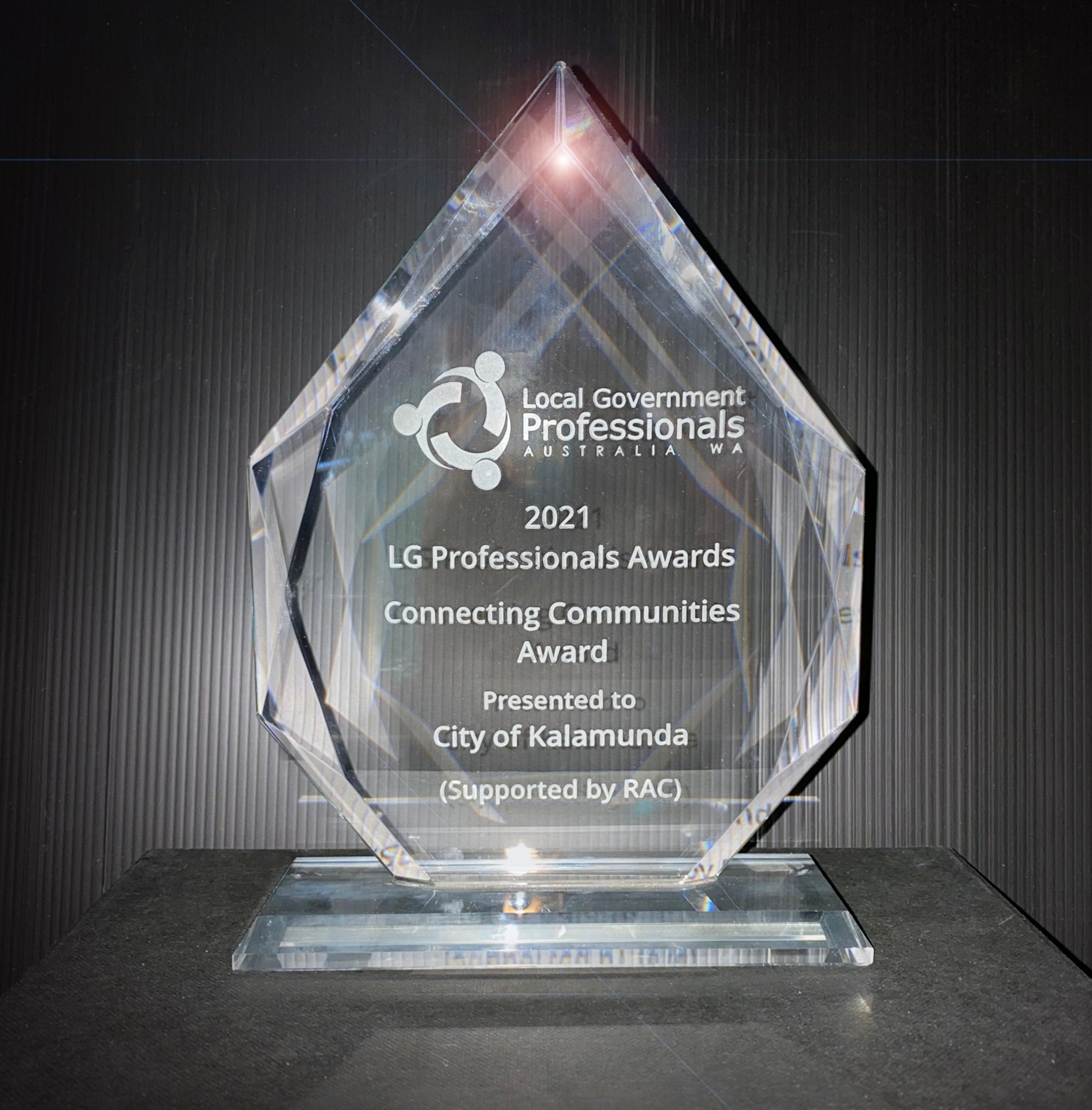 Images: (Left) A section of the Ride-Walk Pathway in High Wycombe | (Right) Local Government Professional Award - 2021 Connecting Communities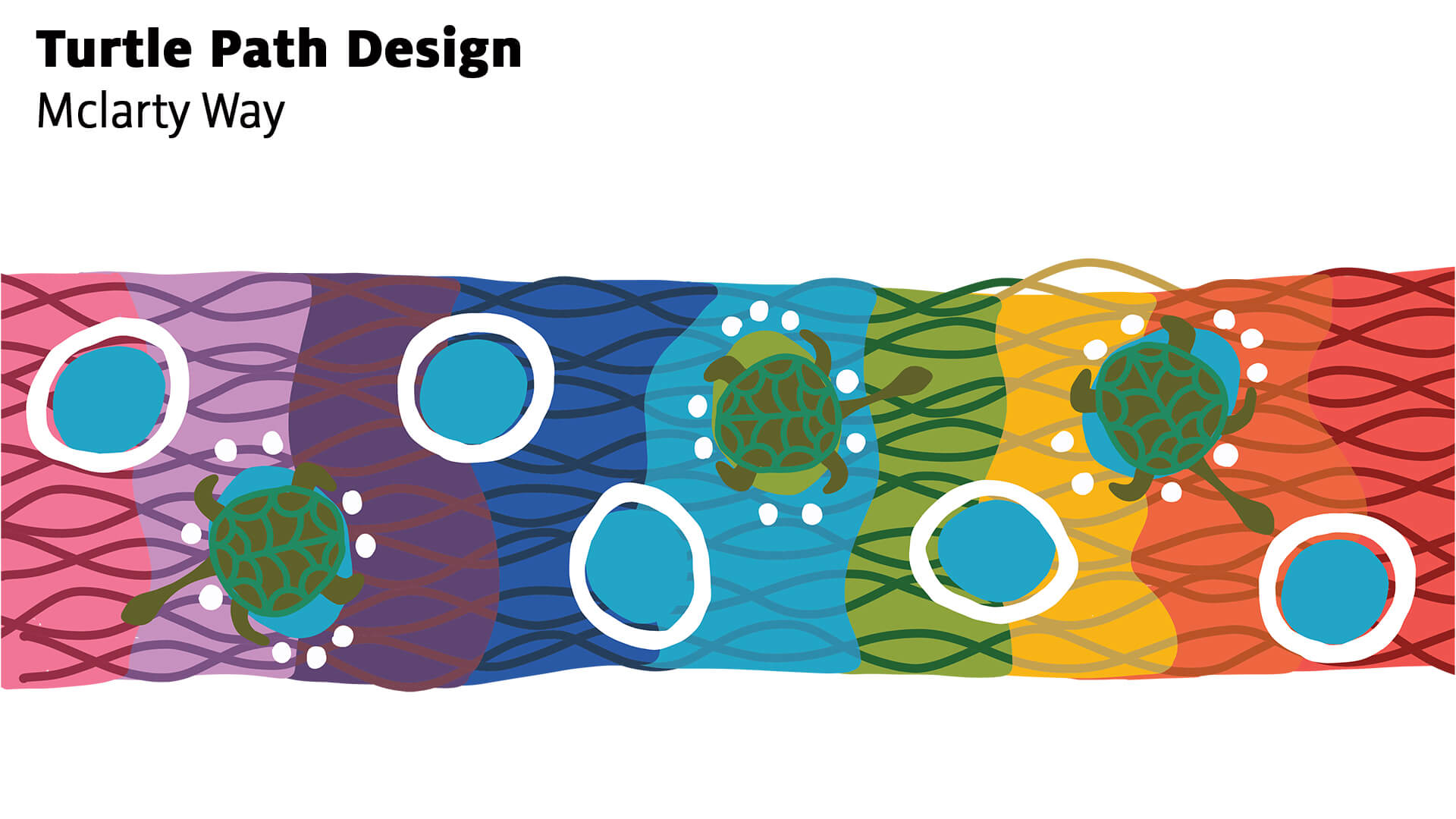 Image: Maclarty Way Turtle Design for road crossing in WABN project located in High Wycombe designed by talented local artist Aurora Abraham
The project embraces neighbourhood stories and local Whadjuk Noongar history and culture through brightly coloured street crossings, designed by talented local artist Aurora Abraham.
Mayor Margaret Thomas JP said, "Awards such as the Connecting Communities Award acknowledges the City's ongoing commitment in engaging with the community to provide quality infrastructure, improving road safety, and creating a sense of place."
"This project showcases the significant community and project benefits that can be achieved through collaboration and empowerment. We engage with our community because meaningful and effective community engagement will make us a better local government more able to meet community needs and aspirations, which at its core demonstrates the top-quality work in the community engagement space."
The High Wycombe Local Route (Route) is a series of shared paths and on-road cycling facilities that increase road safety, connect the local neighbourhood and provide a much-needed transport link for High Wycombe residents to the new High Wycombe Train Station. It is changing lives, improving health and wellbeing, helping to teach Aboriginal History and Aboriginal Stories as we walk together on our journey of reconciliation, engaging with community to create our places in the City of Kalamunda (City).
The Route runs from Kiandra Way, High Wycombe passing directly through John Maclarty Park, a local neighbourhood park and will connect with the new High Wycombe Station. It creates a true sense of place and purpose, connecting residents to nearby recreational and sporting precincts (Scott Reserve and Fleming Reserve), and three local primary schools.
Following collaborative workshops and community engagement, visualising what it means to the residents to live and move through their local places and spaces in High Wycombe, the Route comes to life, interpreting neighbourhood stories with artwork by local Whadjuk Noongar Aboriginal artist, Aurora Abraham. The strong, brightly coloured designs provide the additional benefit of increasing community safety by creating a visual awareness of the intersection between road and shared path.
The project inspires an active and mentally healthy lifestyle, reaffirming the partnership the City has with the Act, Belong, Commit organisation and ongoing collaboration with local schools, the State Government, Town Teams Movement, organisations such as WestCycle and local businesses such as Kalamunda Cycles. The accessible nature of the Route provides opportunities for connectedness for all ages - to local playgrounds, schools, the train station and beyond – and to each other.
The project embraces the opportunity to collaborate with the local community, to visually document their stories and ascertain the essence of the living in the suburb of High Wycombe. Workshops were conducted with 90 local primary school students to gain their insight, opinions, and artistic impressions. Their visual stories documented daily activities, what they saw at local parks, how they travelled and their positive community values. Local Whadjuk Noongar Aboriginal artist and storyteller, Aurora Abraham, worked with them providing insight into the cultural background and ancestry of the area.
The Route was officially launched in June 2021 with a free, fun family-friendly afternoon at John Maclarty Park, raising awareness and highlighting the benefits of the project. The event was attended by residents (with their bikes), cycling body, Council and City representatives. Kalamunda Lions Club ran a sausage sizzle, local business Kalamunda Cycles conducted bike safety checks, and the City's activity marquee, abuzz with giveaways, provided the opportunity to engage further with the community.
The City acknowledged the Town Team Movement, Aboriginal Artist Aurora Abraham, the Department of Transport who provided some funding towards the project, and award Sponsor RAC for their collaboration and support. The High Wycombe Local Route (Route) is just one in a series of planned shared paths and on-road cycling facilities that increase road safety, connect the local neighbourhood, and provide a much-needed transport link for High Wycombe residents to the new High Wycombe Train Station which is expected to open in 2022.
For more information, please contact the City of Kalamunda on 9257 9999, email enquiries@kalamunda.wa.gov.au.