Local Heroes raise $7,800 for Breast Cancer Research
15 September 2021 9:00 AM
City of Kalamunda resident Tara Thill has been awarded a Local Community Hero Award for helping to raise $7,800 for Breast Cancer Research, with support from the Forrestfield United Football Club.
As lead organiser for the Breast Cancer Awareness weekend, held earlier this year, Tara coordinated over 500 players wearing pink socks, and the State League 1st team and all goalkeepers wearing pink shirts.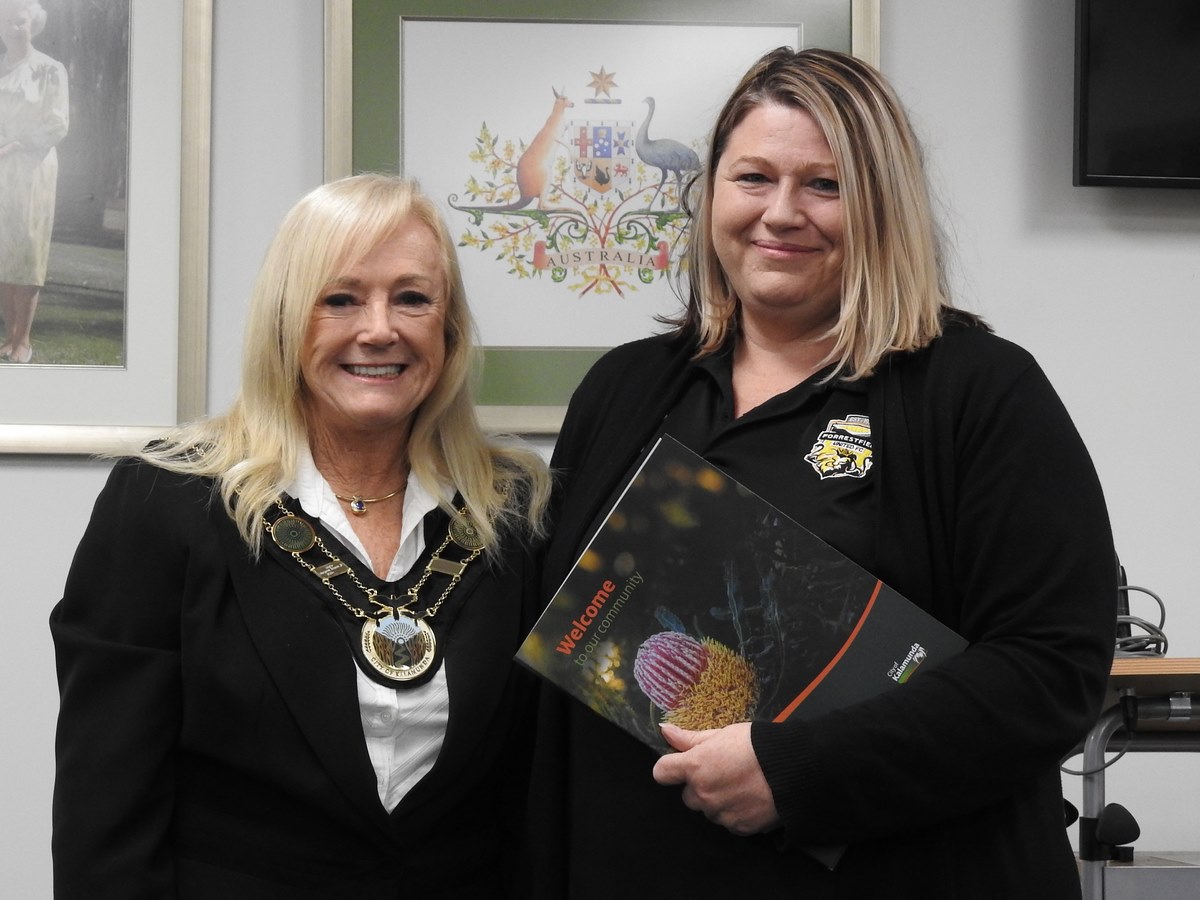 Image: Mayor Margaret Thomas JP (left) with Tara Thill (right)
Tara arranged production and delivery of the shirts, obtained raffle prizes from sponsors, coordinated a sausage sizzle with the help of volunteers and worked from 5.30am until sundown on the day to ensure everything ran smoothly, maximising fundraising efforts. Tara, known as Ms Fixit for her willingness to help wherever she is needed, is also the club registrar, organiser of the junior kits, and clubroom cleaner.
Forrestfield United Football Club President, Mark Twamley said, "We were very proud to present the Breast Cancer Research charity with a total of $7,800. Tara is truly a volunteer hero at the club and deserves recognition for her contribution to the community".
Mayor Margaret Thomas JP said, "Local Heroes such as Tara, make a huge difference to the lives of many, bringing everyone together for a common purpose, raising funds and awareness of issues impacting so many, such as breast cancer."
The City's Local Hero Awards are a celebration of the people within our neighborhoods who are passionate about making a difference, freely volunteering to give back to the community. Award winners receive a $50 KalaCash gift card. The monthly Awards are proudly presented by the City of Kalamunda and supported by Echo News.
Nominate your local hero today at engage.kalamunda.wa.gov.au/local-heroes
For more information please contact the City of Kalamunda on 9257 9999, email enquiries@kalamunda.wa.gov.au.