Shining a light on the first of our 2021 Local Hero Award Winners
22 March 2021 3:30 PM
The City of Kalamunda has great pleasure in announcing the first three Community Local Hero Award Winners for the year, Sara Colombini, Stephanie Bream and Margaret Fowler.
Mayor Margaret Thomas congratulated the three women "for the energy they bring, making the community a vibrant place to live now, and into the future."
"If you know someone who personifies the community spirit of dynamic, connected community citizens we'd love to hear from you. Community members are invited to nominate someone they think is a Local Hero online at engage.kalamunda.wa.gov.au/local-heroes."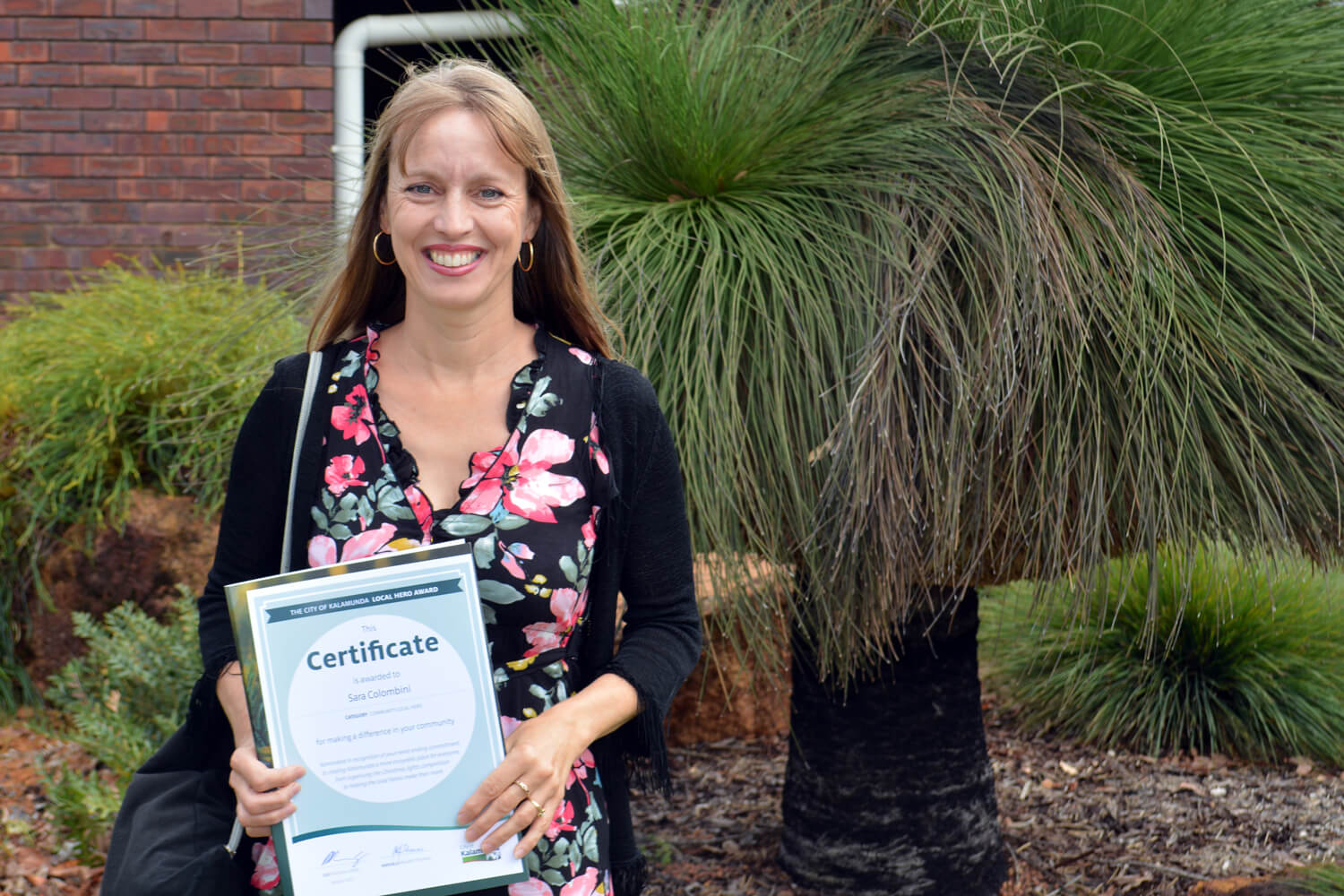 Sara Colombini's never ending commitment to making Kalamunda a magical place for everyone, shone through with the highly successful Christmas Lights Competition organised back in December 2020, and the ongoing time and energy she spends helping the local fairies make their mark.

Stephanie Bream who volunteers at the Spring Road Community Kindy Association, a not-for-profit kindergarten, was nominated for successfully securing a $15,000 COVID-19 grant, running a novel plant sale fundraiser, which raised almost $2,000 and setting up three bee hives to bring in a reoccurring income to the kindy.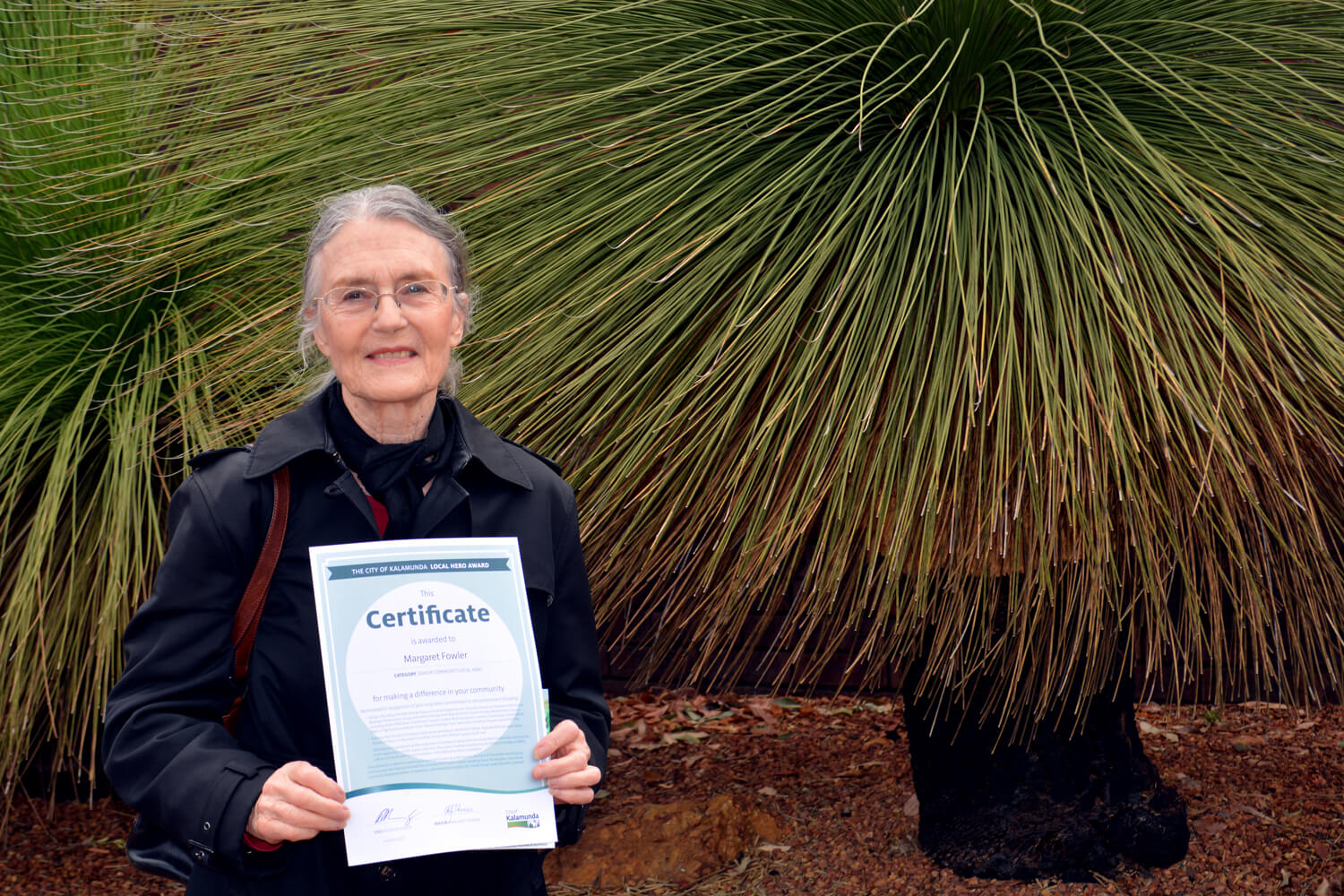 Margaret Fowler, a founding member of Nature Reserves Preservation Group (NRPG), was winner of the Senior Community Hero category for her long-term commitment to the environment. Margaret has tirelessly given her time and expertise over the past 23 years as Treasurer of the group, including administering more than $122,000 of grant money obtained from sources such as the State NRM, Swan Catchment Council, Gordon Reid Foundation Lotteries Commission, CALM (DBCA), Dept. of Agriculture Landcare Trust, Natural Heritage Trust, Swan Alcoa Landcare Program and APACE WA. She formed the Friends of Crumpet Creek, working on land within Mundy Regional Park and working closely with DBCA on-ground staff. She also initiated and coordinated the eradication of bamboo in Rocky Pool (below Spring Road Kalamunda), which resulted in a dramatic improvement in the appearance of this scenic creek line. This project involved coordinating the efforts of members of NRPG, officers of DBCA and members of the Bibbulmun Track Foundation.
The monthly Local Hero Award is a celebration of the people within our neighborhoods who are passionate about making a difference, freely volunteering to give back to the community. Three categories are up for nomination: Local Hero of the Month, Senior Community Member and Young Local Hero. Winners are picked monthly and awarded with a $50 KalaCash gift voucher as a small token of appreciation. The monthly awards culminate with Local Hero of the Year Awards, presented at an annual 'Thank a Volunteer Ceremony', held at the end of each year.
Nominate your Local Hero today at engage.kalamunda.wa.gov.au/local-heroes
For more information please contact the City of Kalamunda on (08) 9257 9999, email enquiries@kalamunda.wa.gov.au