Innovative Program Nurtures Young Entrepreneurs
25 February 2021 8:00 PM
The City of Kalamunda, in partnership with the Kalamunda Chamber of Commerce and Hawaiian's Forrestfield, has opened registrations for the 2021 SEED Young Entrepreneurs Program to help local youth learn and grow business skills.
The free program for youth aged 15 to 25 was created to deliver industry skills and support participants to take an 'idea' through to 'end product'.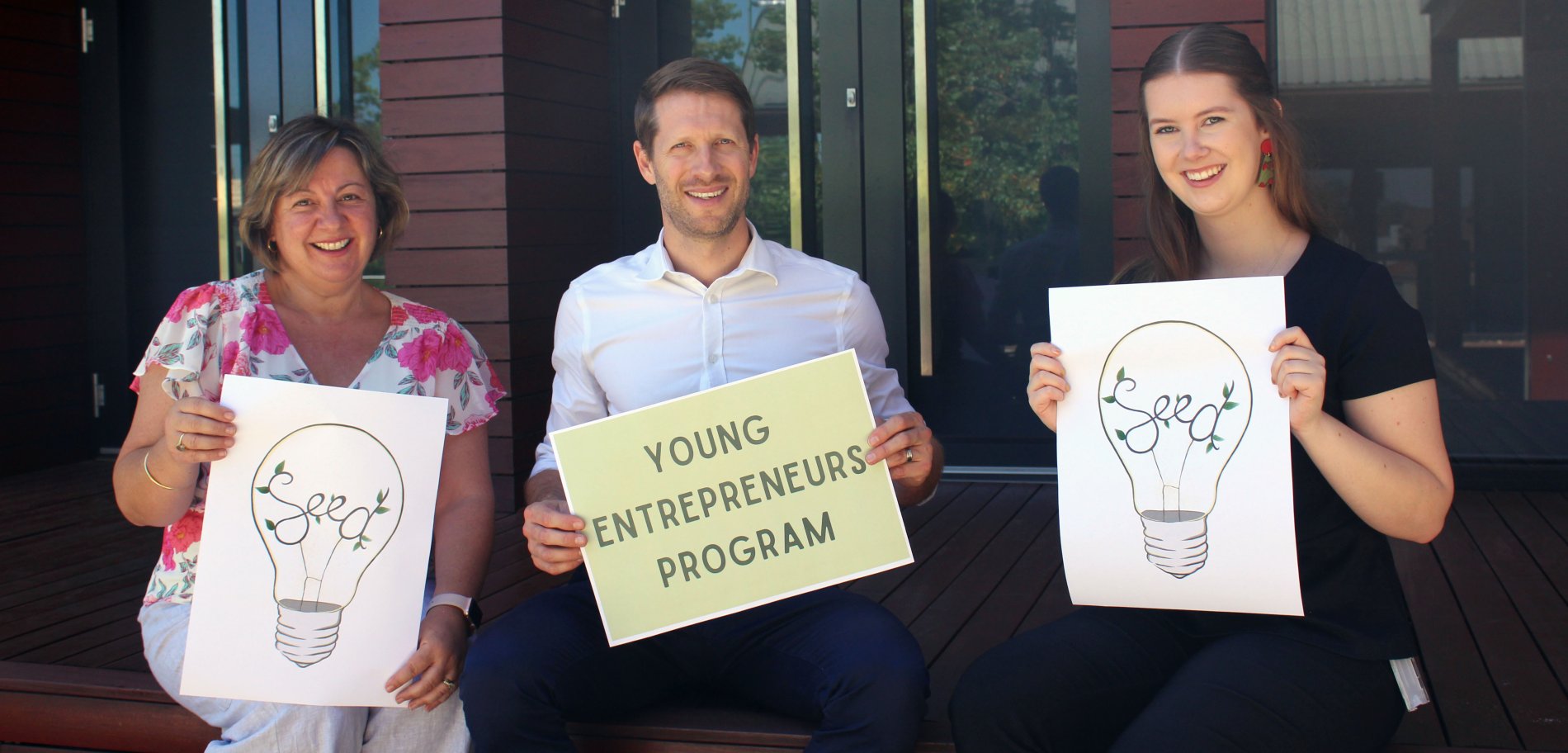 Image: SEED co-creators Kalamunda Chamber of Commerce Manager Judy Houlahan (left) with City of Kalamunda's Youth and Community Development Officer Amberley Bradley (right) and Will Main from Hawaiian's Forrestfield celebrate the program's launch
Online registrations are now open for the program's launch events, featuring successful, local young entrepreneurs, as well as workshops to run across March and April.
Workshop topics include Steps to Starting a Business; Marketing and Promotion Strategies, Building a Business Plan and Business Banking, all leading to the submission of a digital business plan with participants in the running to win a share of $3000 to help their ideas become a reality.
Finalists will showcase and sell their product at the Kalamunda Chamber of Commerce Night Markets in October 2021. The top five winners will also be given free entry to the Kalamunda Chamber of Commerce Business Excellence Awards and two tickets each to attend the gala dinner in November. Split Screen Productions will produce a documentary showcasing the participants' journey through the program.
Jon Elbery, Chairperson, Kalamunda Chamber of Commerce Inc. said, "I never fail to be amazed at how motivated young people can be when it comes to entrepreneurship. Their creativity, imagination and self-belief can be breathtaking. I believe young people should be encouraged to push the boundaries and allowed to flourish in an environment as free as possible from constraints. This program is designed to guide and inspire tomorrow's job creators towards success."
Mayor Margaret Thomas said the program delivers opportunities for local youth to gain knowledge and skills to start their own business and create employment opportunities for themselves and others.
"The SEED Young Entrepreneurs Program will provide our local youth with the support and skills they need to prosper moving forward," Cr Thomas said.
"Through this program, we want to encourage more young people to pursue their interests and engage in entrepreneurship to amplify their opportunities."
Register or find more information here.
Alternatively, please contact the City of Kalamunda on (08) 9257 9999, email enquiries@kalamunda.wa.gov.au