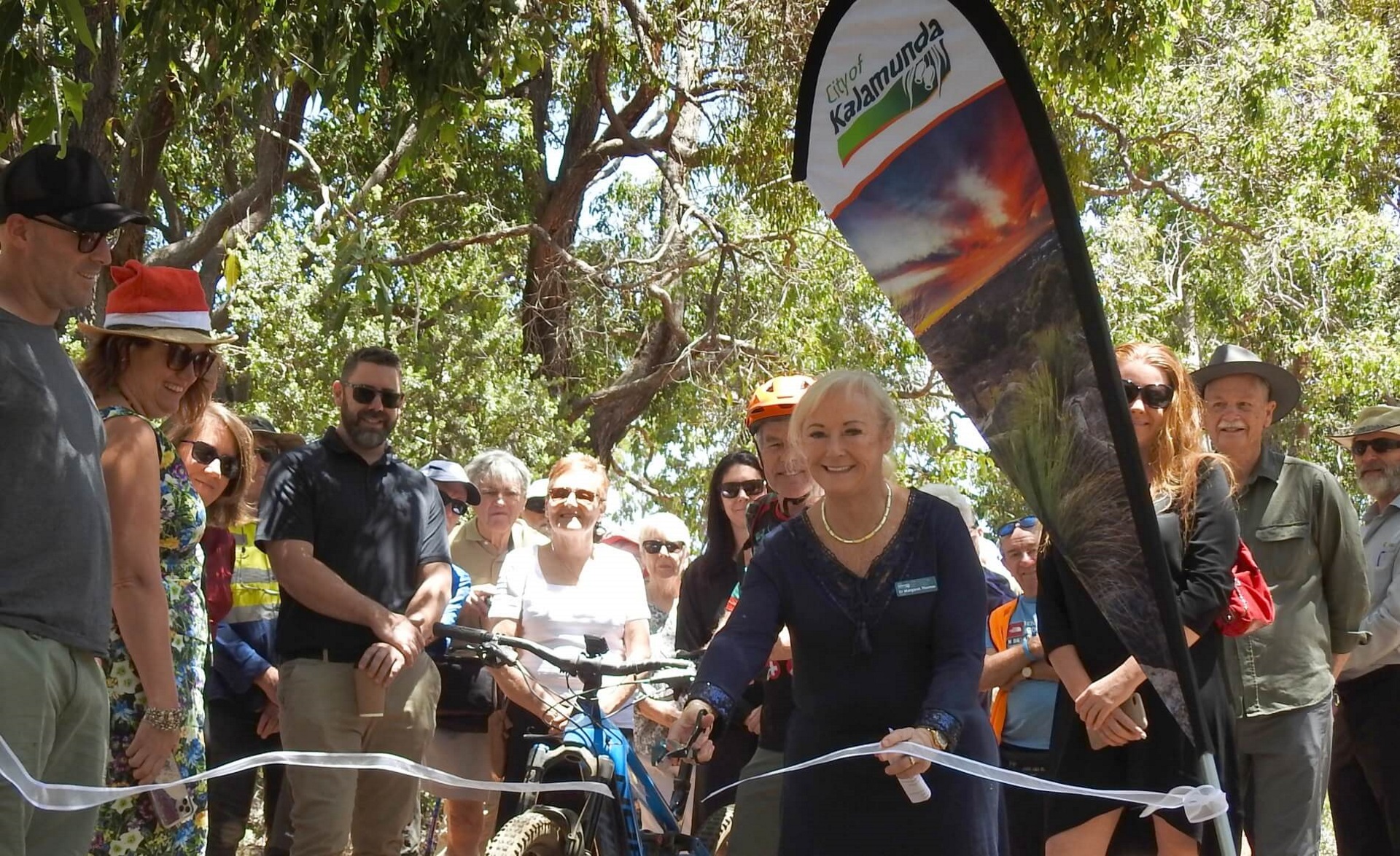 15 December 2020 3:15 PM
The Kalamunda Railway Heritage Trail – Perth Hills Trail Loop Stage 1 was officially opened today, 15 December 2020. Thank you to everyone who joined us on this momentous ride and to our awesome Western Trails Alliance Ltd (WTA) volunteers who spent over 1000 hours creating a safe recreational space for our community to enjoy. The Kalamunda to Pickering Brook Trail took a substantial amount of hard work by so many people, thank you!
Mayor Margaret Thomas said at the ribbon cutting ceremony, "The trail's design factors in multiple uses, users and abilities and is marked by a Donkey Orchid symbol that distinguishes it from intersecting trails that works to literally keep you on track!"
"It provides a way for local people and visitors to experience our amazing bushland within walking distance of the Kalamunda Town Centre … plus, its thoughtful design offers a variety of options for the more adventurous with safety at the top of mind throughout the project".
"The Kalamunda Railway Heritage Trail follows the historic railway line that ran through the area from 1891 to 1949."
Riders and walkers can now ride or hike from Spring Road in Kalamunda to Canning Road in Pickering Brook passing through the locations of the old railway sidings and taking in the amazing flora and fauna Birak (the Noongar summer season) has to offer.
"With Stage 1 now open, the City's teams are planning Stage 2 which proposes to loop from Pickering Brook back to Kalamunda through parts of the trails network to the east. Exciting times ahead."
The City of Kalamunda welcomes locals and visitors alike; and trusts everyone, will enjoy exploring the trail!
Connecting Communities, Valuing Nature and Creating our Future Together.
Please keep to the marked trails and remember to keep hydrated.
More information
Read more about Kalamunda Railway Heritage Trail here
View more details about outdoors activities in the City here
Alternatively, please contact the City of Kalamunda on 9257 9999, email enquiries@kalamunda.wa.gov.au.