Roe Highway and Kalamunda Road: Lane closures and traffic realignment
14 October 2019 3:00 PM
Lane closures and a traffic realignment on Kalamunda Road will commence in mid-October 2019. Construction activity will shortly take place in various locations in the vicinity of the Roe Highway and Kalamunda Road Interchange project site, however, the impact on road users and the surrounding community is expected to be limited.
Traffic Management and change of flow for Kalamunda Road traffic, east of the Roe Highway intersection.

Initial traffic management activity will take place along Kalamunda Road (East). Commencing at the Roe Highway and Kalamunda Road intersection and extending east down Kalamunda Road past the Advent camping ground, Kalamunda Road will see lane reduction allowing for early works to commence. Traffic flow will be maintained in both east and west directions, in a single carriageway configuration.

It is estimated these realignment works will commence mid-October 2019 and will be in place for approximately 12 months. A schematic map of the proposed realignment is shown below.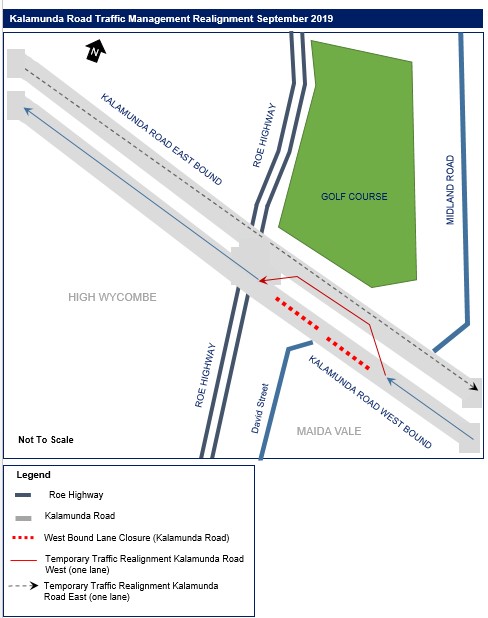 More information
If you have any questions or concerns, please email
enquiries@mainroads.wa.gov.au
or call 138 138. Full project information can be found at:
https://project.mainroads.wa.gov.
https://project.mainroads.wa.gov.au/home/current/Pages/roekalamunda.aspx
.