Residents Awarded Freeman of the City
23 July 2019 7:00 PM
Ten City of Kalamunda residents were last week named honorary Freeman of the City, the highest award Council can bestow. The ceremony took place at the biennial Mayoral Dinner in Wattle Grove, an evening dedicated to the recognition of community volunteers.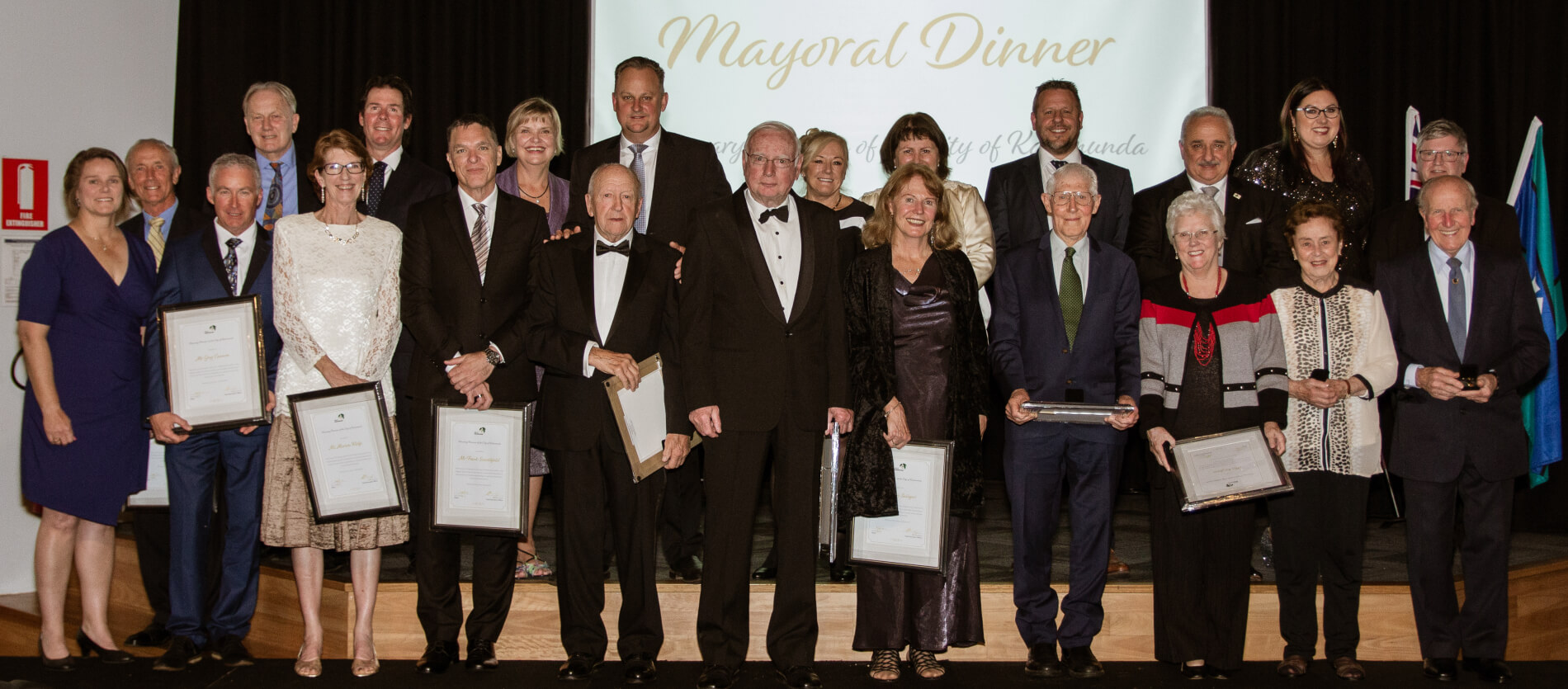 Mayor Giardina said, "It is an honour to be able to recognise all of our volunteers who gift their time to our community, and in particular these ten individuals whose impact on our community will be felt for many years to come."
"From the bottom of our hearts, we thank you for your time, dedication, hard work, inspiration and commitment to our community. The difference you make is truly remarkable, and because of you, our community is a better place."
The Freeman of the City title is an honour bestowed upon citizens who have made significant achievements and dedicated service to the community over their lifetime. This prestigious award is extended exclusively to those who have shown outstanding, ongoing and extensive community involvement.
It is the first time in the past 12 years the City has bestowed the honour of Freeman.
Recipients included Iris Jones, Thomas Hogg, Chris Saligari, Donald McKechnie, Gordon Masters, Frank Scardifield, Marian Rolfe, Mike Robinson, Noreen Townsend and Greg Cannon, who combined have donated over 200 years of their lives to community service.
As a part of the evening, young women from the Esther Foundation, a local not for profit dedicated to providing an extensive and award winning young women's residential health, development and leadership program, undertook table service, gaining vital experience in hospitality and mentoring. The program provides intensive support for young women to overcome life controlling struggles and issues in a safe, structured and supportive environment. The recovery program aims to educate, encourage, empower and enrich young women with self-worth, skills and the confidence to lead successful lives within the community, and reach their potential.
Volunteer members of local Sporting, Community and advisory groups represented their organisations at the event, which was a forum of community leaders, showcasing Kalamunda and utilising local produce.
Those awarded on the Night echoed their sincere thanks to the City, noting how humbled they were to be awarded Freeman.
The City's new Freeman join current Freeman Mrs June Butcher and Mr Hallahan who were honoured in 2007, and Mrs Betty Willmott, honoured in 1998. Along with the late Mr Lloyd (2007), Late Mr Brian Burgess in 2001; late Mr George Spriggs, Late Mr Barry Oldfield, Mr Peter Willmott and Mrs Ede Williams in 1998. The Late Mr Ray Owen was the first freeman honoured by the City in 1966 in accordance with the Local Government Act 1960.
Background on Each Recipient:
Iris Jones
Iris' impact on the City of Kalamunda community is far reaching.
As a talented musician, Iris has worked collaboratively with other local musicians to create original CDs, the proceeds of which have been donated to improving the community and lives of others through causes such as Camp Quality.
One of these CDs was on the history of European settlement in the Kalamunda region, the proceeds going to the Kalamunda and Districts Historical Society.
In between the 1980s until early 2000, Iris was a member of the Council's first arts committee and taught music at the Kalamunda Learning Centre for several years. Iris was also a founding member of the Hills Folk Club in 1982, which still operates today.
But Iris' contributions extend well beyond the musical realm, having authored "The Grave at Carmel", for the Francis Weston Grave.
Iris was also involved in project managing the restoration of the top of Lesmurdie Falls, the Zig Zag Community Arts Festival, the Lesmurdie Ratepayers Association (later called the Lesmurdie and Districts Community Association), Falls Farm Management Committee, and the Kalamunda and Districts Historical Society, where she coordinated the foothills connection community heritage project and the creation of Heritage Trail Narrative and Music Recording.
Since her retirement in 2002, Iris has played a significant role in the advocacy of aged care in Kalamunda and beyond, serving the City's Aged Care Advisory Committee, Friends of Aged Care and as part of Federal Member Honourable Ken Wyatt's inaugural Aged Care Committee.
Iris is also involved at a regional level with Swan Care and represented her group as a part of the Member for Kalamunda, Mr Matthew Hughes, inter agency committee which is addressing aged care needs at a State level.
Thomas Richard Hogg
Since moving to Maida Vale in 2000, Thomas has had a monumental impact on the City of Kalamunda and wider community through his fundraising efforts for various charities.
Over the years, Thomas has raised close to $500,000 for charities, including the Amanda Young Foundation, Princess Margaret Hospital Cancer Fund, Royal Flying Doctor Service and the Little Children's Cancer Fund.
Apart from the above charities, he has also made significant contributions to the St Francis of Assisi Church in Maida Vale. In May 2018 he hosted a Garden, Art and Craft Show with all proceeds of the event going towards building extensions for the church. He also planted and maintains a rose garden in the Church grounds.
Thomas is a self-taught stone mason, transforming his own block in Maida Vale into a multi-award winning garden and amphitheatre area, which he allows others to use for performances for free. Thomas' has used his other garden areas, known as "Romancing the Stone Garden" and 'Little Covent Garden', to raise money for a host of charities for more than a decade.
His passion for creating has seen Thomas' artwork displayed at several local government and school art exhibitions around Perth and surrounding towns.
Thomas' contributions are selfless and admirable, and truly do make our community and world, a better place.
Chris Saligari
Since joining the Kalamunda Education Support Centre in 2003, Chris has helped transform the lives of hundreds of people in our community living with a disability, through the power of sport.
Chris assists with the planning and delivery of the school physical education program, including specialist sports, whilst volunteering countless hours to support the school administration team and other extracurricular activities. Chris' passion has seen some of these activities double in numbers and become some of the largest in Australia.
In 2011, Chris established West Rise Basketball – an answer to the lack of sporting competitions for people with a disability. Chris has gifted eight years of her life to the league, which runs all year round, from February to December, only breaking for school holidays.
Thanks to Chris' never-ending guidance and support, the league has seen players go on to represent the State at the WA Ivor Burge Nationals. But it's not just time that Chris donates.
Chris shares her knowledge, teaching participants transferable skills like coaching, umpiring and scoring; she shares her resources, helping to arrange transport for families and children; and she shares an energy, smile and attitude that encourage people of all abilities to make the impossible, possible.
Donald Andrew McKechnie
Donald has dedicated decades of his life to the service of his community, in a variety of capacities.
He spent many years through the 70s and 80s, volunteering as a member of the Mary's Mount Primary School Board and Parents Friends Association, whilst also coaching the hockey team.
From the 90s, Donald commenced his tenure as an elected Councillor of the then Shire of Kalamunda, before taking on the role of Shire President for six years, between 2007 and 2012. During this time Donald was also a dedicated patron of the Kalamunda Agricultural Show.
In 2014, Donald accepted a role as patron of the Kalamunda Secondary Education Support Centre, in which he initiated the McKechnie Family Endeavour Award, celebrating the contribution and efforts of others.
Donald's amazing contributions and passion for community are witnessed and appreciated by all, both in and outside of the City of Kalamunda. Donald was recognised in 2012 by the Western Australian Local Government Association for his personal commitment, eminent service and contribution to the association and local government.
Gordon Masters
Gordon has lived in Kalamunda 56 years and has spent much of that time working to improve the community and protect its special character we all know and love.
Gordon was a member of Apex, a founding member of the Kalamunda Lions Club and Committee Member of the Kalamunda Bowling Club.
Gordon was elected to the then Shire of Kalamunda Council in 1969 and after two years, was asked to stand for Shire President.
Following his tenure, Gordon was elected to the Legislative Council, holding the West Province seat, where he worked to advocate for individuals, groups, schools and enterprises within the Shire. Gordon went on to become Minister of various portfolios and Leader of the Liberal Party in the Legislative Council.
Despite the demands of Gordon's roles and commitments, he attended almost all annual speech and award nights, presenting his donated awards to students. Gordon worked strongly to support local community, sporting and arts groups within the Shire, often as a club patron or through the establishment of awards.
Gordon's contributions have seen him receive both the Queen's Silver Jubilee Medal 1977 and the Centenary of Federation Medal in 2003, a truly remarkable achievement.
Frank Scardifield
Frank Scardifield first came to High Wycombe in 1967, later settling with his wife Vicki in Maida Vale where they raised their family.
A hint to his community service came at a very early age, becoming involved in sporting clubs and committees in his teenage years, leading to his election as a Councillor at the then Shire of Kalamunda in 1990.
His volunteering has continued throughout his lifetime playing sport representing his suburb, and was instrumental in the formation of the Scott Reserve sporting clubs.
Frank has made significant contributions to the community through his roles in key community leadership positions, including President of the High Wycombe Cricket club for over 30 years, Deputy Chairman of the West Australian Suburban Turf Cricket Association and Presiding member of the Scott Reserve Advisory Committee until the committee ceased to operate in 2018.
His involvement in cricket has included he and his wife hosting over 30 overseas cricket exchange players. Frank has also been instrumental in encouraging players from High Wycombe to travel to as far as UK to gain experience building relationships across the world as an exchange player.
Frank has his family business in High Wycombe providing sponsorship to local community events and schools.
In 2005 Frank was congratulated by the City's CEO on 30 years of service for High Wycombe Cricket Club, and has since added another 15 years of invaluable service.
Marian Rolfe
Marian has been an avid member of the City of Kalamunda community for many years, including serving as a Councillor from 1986 to 1989.
By far her most significant contribution has been through the Kalamunda and Districts Basketball Association (KDBA) since the late 1980s, marking over 40 years of gifted time to the running and wellbeing of this important community club.
During her service to the KDBA, Marian held many official positions including President, Vice President, Treasurer, Kiosk Manager and Member of the Centenary Celebrations Sub Committee. She has also been a volunteer member of the Ray Owen Management Committee for many years.
Marian played a significant part in obtaining funding for the extensions of Ray Owen Sports Centre in 2006/2007. As treasurer, she was instrumental in transforming and modernising the KDBA accounting practices. Marian's volunteer work and support saw the club win the Smarter than Smoking Healthy Club of the Year award.
Marian's contributions are recognised with a life membership to the KDBA.
Outside of the KDBA, Marion has also dedicated her time to the Kalamunda Progress Association.
Mike Robinson
A resident for 42 years, Mike Robinson has made significant contributions to several Community Groups in the City, including a lifetime of significant involvement in the Kalamunda and Districts Hockey Club (KDHC).
As a player, Mike was in the top team for a decade before graduating to the Masters team (for which he still plays). Off the field, Mike has taken on the roles of Club Secretary, Juniors coordinator, club relocation committee and Hockey WA Masters Committee.
His involvement with the masters committee resulted in a grant being received for the development of junior hockey in the Kalamunda region. His contribution to KDHC culminated in a Life Membership award in the late 1990's.
Mike is also actively engaged in other community groups in the region. An avid environmentalist, Mike is committed to engaging the club in the protection of the environment and ensuring the club is environmentally conscious in all they do.
Away from hockey his passion resulted in the formation of the Friends of Upper Lesmurdie Falls Inc. to work with the then Department of Environment and Conservation (DEC) to rehabilitate the degraded areas lying above the Lesmurdie Falls.
Along with another nominee for Freeman, Iris Jones, he was joint Project manager in the Up the Creek Project. The collaboration with the Lesmurdie Districts Community Association who approached the Friends Group resulted in a proposal for a joint project to accelerate the achievement of DPaW's and the Friends' goals for the area.
Mike continues his role as Chairperson of the Friends of Upper Lesmurdie Falls and remains involved at the KDHC.
Mike leads by example and is truly deserving of the accolades he earns.
Noreen Townsend
Noreen's involvement in her local community commenced more than 30 years ago, when she began working for the Shire of Mundaring and even served as the CEO.
Outside of her profession, Noreen has dedicated much of her time to the local City of Kalamunda community, where she has been involved in local organisations and community groups.
Noreen has made a significant contribution to the operation of the Foothills Information and Referral Services, as Deputy Board Chair and Financial Councillor, where she commenced over ten years ago. Noreen has continued a role on the board since that time.
Noreen has also volunteered her time to the Kalamunda Environmental Advisory Committee, Women's Powder Room and has been a member of the Seniors Week Planning Group and Community Working Group for Public Open Space in Forrestfield.
Noreen also served as President of the Kalamunda Rotary from 2007 to 2009.
Noreen's contributions to the City of Kalamunda and wider Perth Hills and Foothills region have been both significant and invaluable. It is noted that Noreen is an apology tonight, as she is currently overseas. We will arrange to present her with her award.
Greg Cannon
Greg has made a significant contribution to our local community through his involvement in the Forrestfield Football Club (FFC) as both a member and President.
His commitment has been enormous, volunteering his time to coaching, setting up for games and working behind the scenes to secure Club sponsorship.
Greg has been instrumental in a number of initiatives to enhance the club's development and community integration. Thanks to Greg's commitment, the club has gone on to receive AFL Good Sport Accreditation and funding for new change rooms and lighting upgrades so the club can host night games.
Greg has donated much of his time to enhancing the club by bridging the gap between Senior and Junior Teams, introducing the AFL 9 summer competition and creating a family atmosphere through the introduction of half time Auskick during Senior games.
Greg's commitment is appreciated and recognised by the entire Club, having been awarded life membership and taking out the Auskick District Coach of the Year in 2010.
His dedication and love for both the sport and club is inspiring to all generations.