Michael Breen: Taking up the leadership challenge
07 July 2022 11:30 AM
City of Kalamunda resident and Local Hero Award winner, Michael Breen has overcome his share of challenges, including Autism and the loss of sight in one eye, rising to be a valued leader of the 1st Walliston Scout Group.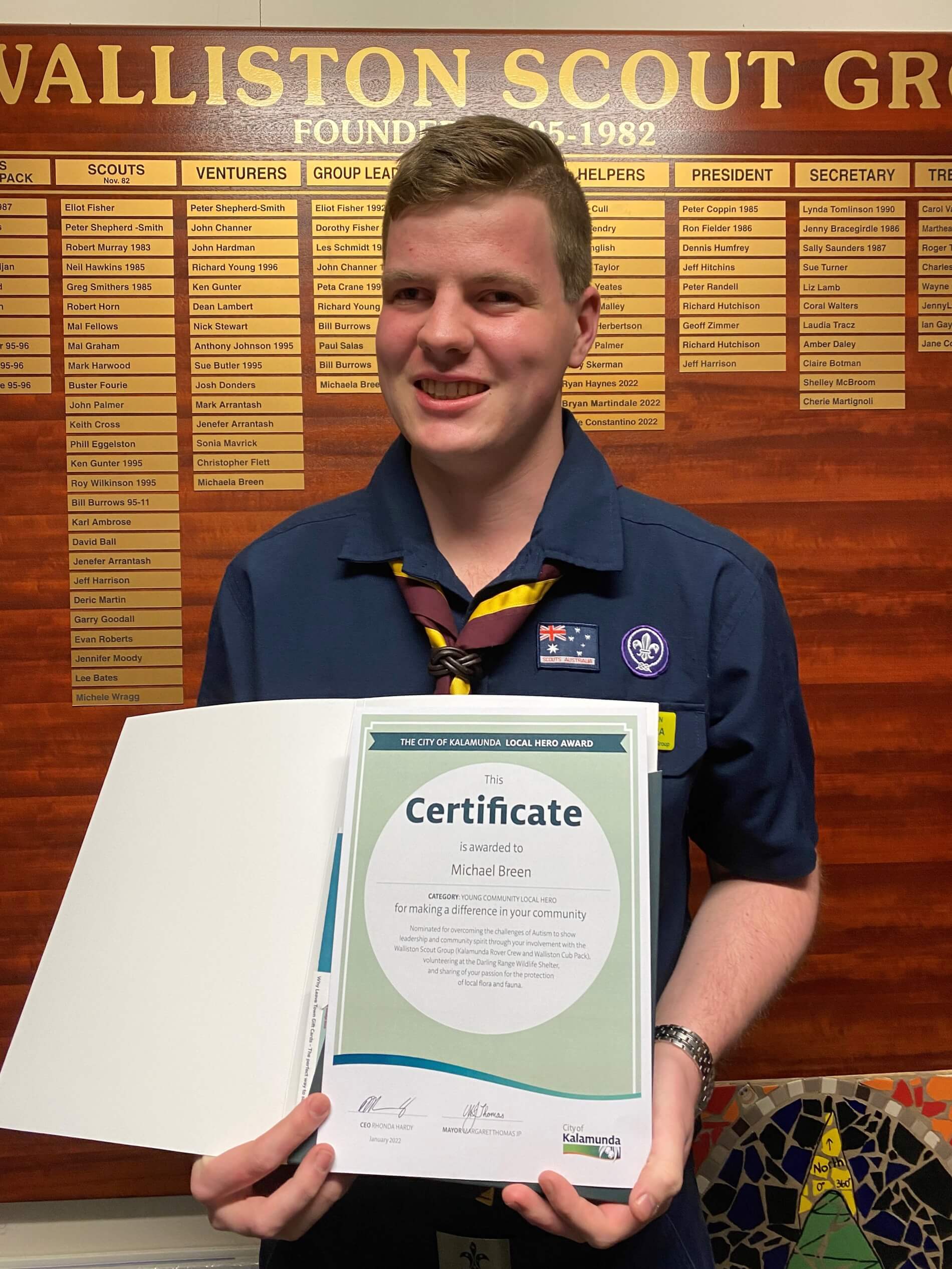 Determined not to let his Autism hold him back, Michael Breen spent the last five years working his way from Venturer Scouts (14-17 years) to completing his leadership training and volunteering his time with the energetic, and sometimes noisy, Cubs Scouts (8-11 years) and Scouts (11-14 years) as assistant leader.
Michael also brings his passion for protecting local flora, fauna, and the environment back to the Scouts educating the young people on the skills he gains while volunteer weekly at the Darling Range Wildlife Shelter.
Mayor Margaret Thomas JP presented Michael with his Young Local Hero Award in front of the Cub pack on Thursday evening to rousing cheers.
"Getting involved in one of the many local community groups is a great way to learn new skills, hone existing ones and build connections with community. The shared rewards so often far outweigh the time gifted for both the giver and the receiver", said Cr Thomas.
"Michael has put a lot of work and dedication into reaching his goals, it hasn't been easy, but he has persevered and with support of the community, he has been able to give back," said fellow Scout leader and mother Michaela Breen.
The City's Local Hero Awards are a celebration of the people within our neighborhoods who are passionate about making a difference, freely volunteering to give back to the community. Award winners receive a $50 KalaCash gift card. The monthly Awards are proudly presented by the City of Kalamunda and supported by Echo News.
Community members that make an exceptional contribution to our neighborhood can also be nominated for Australian Honours and Awards hosted by the Office of the Official Secretary to the Governor-General.
If you know a local hero, nominate them today at engage.kalamunda.wa.gov.au/local-heroes
For more information on the Local Heroes Awards or Friends Groups Programs please contact the City of Kalamunda on 9257 9999, email enquiries@kalamunda.wa.gov.au.
Photos: 📷 by City of Kalamunda