Capturing another awesome view
21 June 2021 9:45 AM
A new interactive, interpretive flora sign was unveiled on the Kalamunda Railway Heritage Trail this week by City of Kalamunda resident and retired teacher, Mrs Norma Walsh.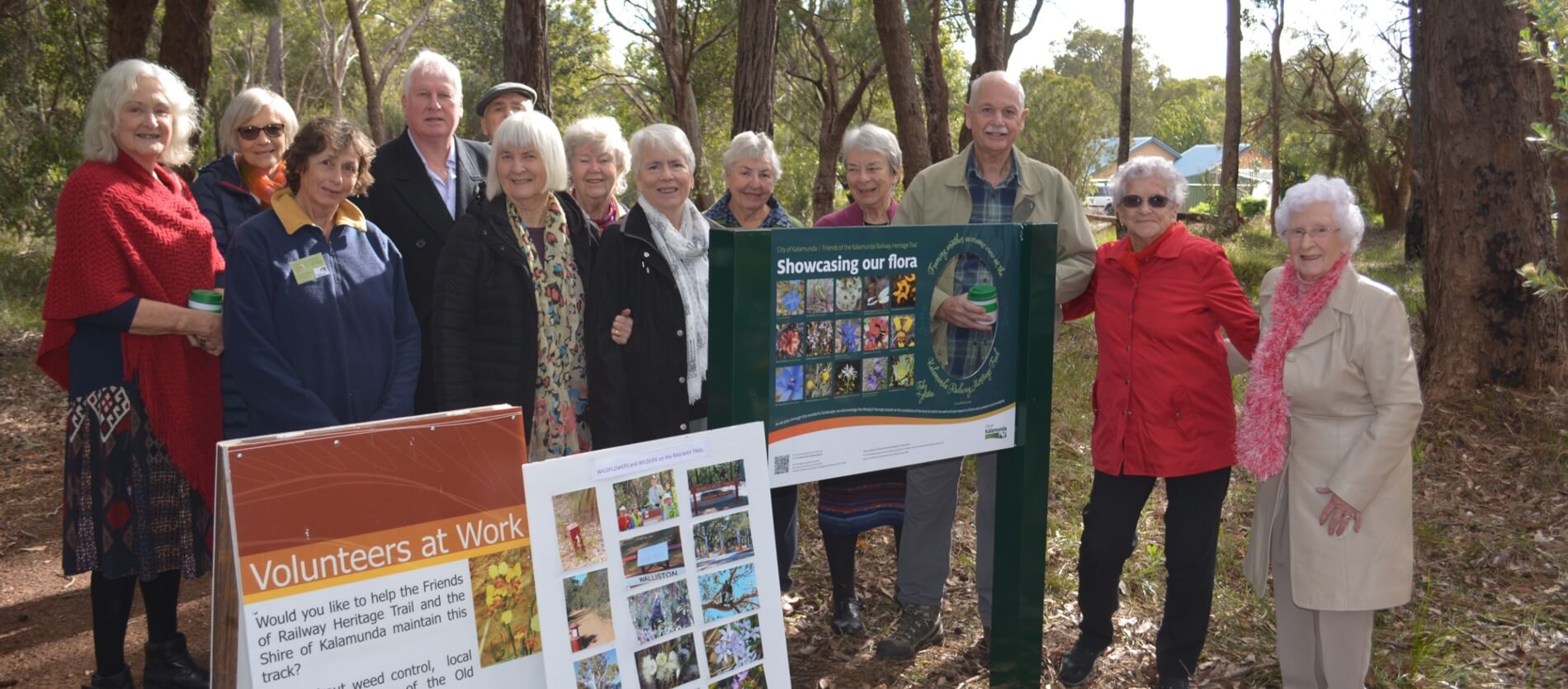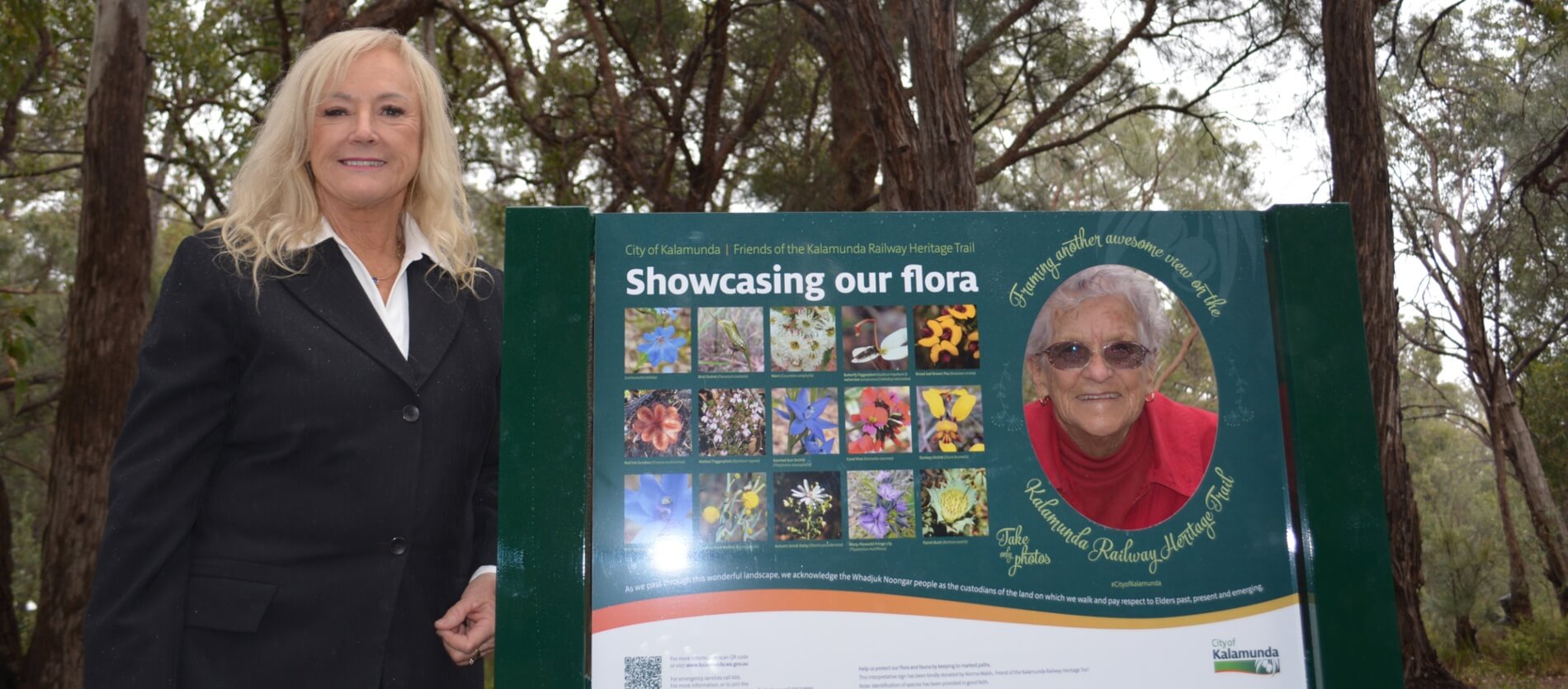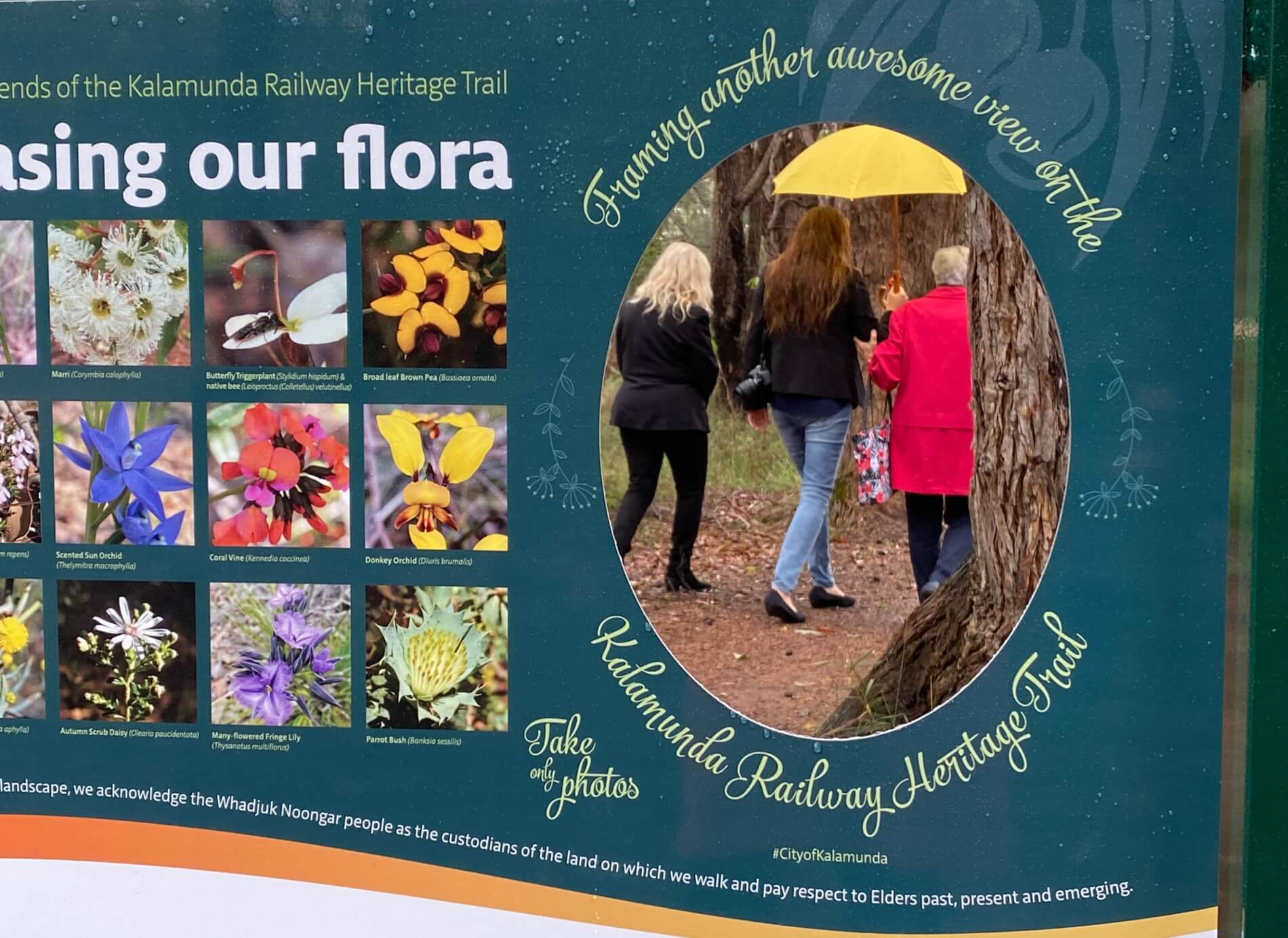 Images: (from top left) 1. Volunteers and representatives.
2. Mayor Margaret Thomas and Norma Walsh at the flora board.
3. Morning Tea with the volunteers and representatives.
4. View of the flora board
A small launch ceremony with a poetry reading by Mrs Walsh was attended by Friends of the Kalamunda Railway Heritage Trail, the Darling Range Wildflower Society and City of Kalamunda representatives.
Mrs Walsh who has a strong history living and working in the City wanted to share her love of the local environment with trail users and generously donated the sign. Located near seating, to the east of the City's Administration building, the seat and sign are the perfect place to stop, rest, reflect and immerse oneself in the sights and sounds of our local species.
"The bird orchids (Pterostylis barbata) are one of my favourites," said Mrs Walsh. "They flower near here most years".
"The site also has a strong emotional significance to me,'" she said. "This was my husband Max's favourite place. He loved the bush. His ashes are spread nearby, and a plaque has been placed on the seat in memory of him."
Mayor Margaret Thomas JP said, "The sign showcases some of the native flora that grows along the trail and compliments the fantastic work of the Kalamunda Railway Heritage Trail Friends Group who actively care for this natural space."
"We've also added a QR code feature to the sign to provide walkers and riders with a quick method to access trail maps and further information using their mobile phones."
"And for those who want to have a spot of fun, an oval cut-out allows trail users to capture a view of the trail with their cameras. Designed to frame the bush while seated, it's also a memorable way to capture family, friends and even furry friends."
"If you are sharing photos to social media, we'd love you to use the hashtag #CityofKalamunda so we can enjoy them also," said Cr Thomas. "We're planning a second interpretive board on the back of the current one, so if anyone has taken photos of the flora or fauna along the trail we'd love you to send them to us via enquiries@kalamunda.wa.gov.au for possible inclusion, before the end of July 2021."
More Information
View here for more information about the Kalamunda Railway Heritage Trail, alternatively, please contact the City of Kalamunda on 9257 9999, email enquiries@kalamunda.wa.gov.au