New Sports Facility Open for Business
31 July 2019 5:00 PM
The Kalamunda Districts Hockey and Forrestfield Flyers Teeball clubs have a new place to call home, thanks to the completion of a new $3 million sports facility and playing grounds in Forrestfield.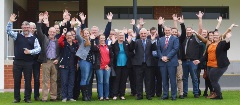 Mayor Giardina said, "The City of Kalamunda is excited to be able to deliver this important project and are grateful to all that have been involved in what is a fantastic outcome for our community.
In particular, I would like to thank the State Government of Western Australia for their support and the invaluable assistance of the Project Control Group and Hockey and Teeball Clubs.
This much-needed facility will enable these clubs to continue to grow, play and train with the space and tools they need.
Our local sporting clubs are the very heart of our community, providing a place for us to keep mentally and physically healthy. Clubs have the ability to connect communities and research shows that connected communities are safer, healthier and happier."
This facility is the final stage of the $6 million Hartfield Park Master Plan redevelopment, a project that has overhauled the City of Kalamunda's largest sporting and recreation reserve.
The Master Plan, an ambitious vision to meet the needs of the growing sporting community, was adopted in 2010. A 2013 State Government commitment of $6.01 million saw this vision transform to reality, helping to fast track priority upgrades.
Mayor Giardina said the Hartfield Park project was a prime example of the importance of planning processes when it comes to securing funding.
"Our community is growing and so are needs and expectations. The City of Kalamunda is committed to delivering services and infrastructure that meet these growing needs. We need to ensure we have our plans in place, like the Hartfield Park Master Plan, so that we have shovel ready projects for advocacy.
This is also a journey we want to bring our community on. I urge all community members to get involved and participate in the planning processes through our engagement portal. We ask for your feedback on all the current projects, plans and strategies happening in our City and use that feedback to guide these documents."
The City's engagement portal is accessible online at engage.kalamunda.wa.gov.au. To have their say, participants can register to the portal and can opt to receive updates when new projects open for comment.
For those not online, surveys are available at all City of Kalamunda Libraries and the Administration Centre for projects open for comment.
To find out more, contact the City of Kalamunda on 9257 9999 or enquiries@kalamunda.wa.gov.au